27 large listed firms give double-digit hikes to top executives despite a decline in net profit.
Krishna Kant reports.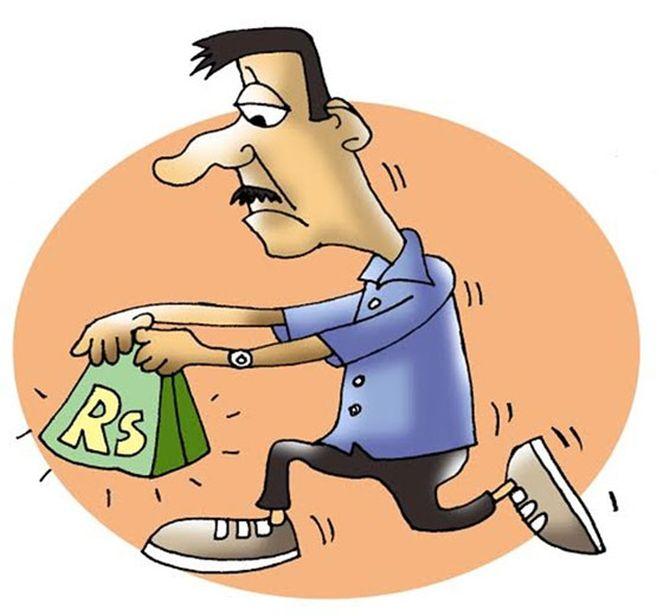 A special resolution to reappoint Neeraj Kanwar managing director of Apollo Tyres did not go through as minority shareholders were not in approval.
'Apollo Tyres' board of directors will discuss the resolution in the next meeting and determine the course of action to be taken,' a spokesperson for the company said in a statement.
Only 72.72 per cent of shareholders voted in favour of the resolution, which required a minimum of 75 per cent shareholders voting for it.
Over 56 per cent of the public institutions category and nearly 49 per cent of the non-public shareholders voted against the reappointment.
Analysts say some investors did not approve a 38.4 per cent hike in Kanwar's remuneration to Rs 427.6 million as the company's net profit declined 34.1 per cent.
Apollo Tyres is among 27 large listed companies that gave double-digit hikes to their top management in FY18 despite a decline in profits during the period.
Executive salaries in India's top listed companies were up 20.4 per cent on average during 2017-2018, including employee stock options, against 17.8 per cent growth in the company's net profit and 12.9 per cent year-on-year growth in net sales last fiscal year.
Bharti Airtel MD and CEO Gopal Vittal got a 36 per cent hike in remuneration even as the company's net profit declined by over 70 per cent.
UltraTech Cement's MD K K Maheshwari got a 90 per cent increase, though the net profit declined 18 per cent.
At tyre maker MRF, for example, the combined remuneration for the company's top three promoter executives was up 25.3 per cent YoY in FY18, against a 24 per cent decline in the company's profits last year.
Another 18 companies rewarded their top executives with double-digit hikes in FY18 despite flat earnings last year.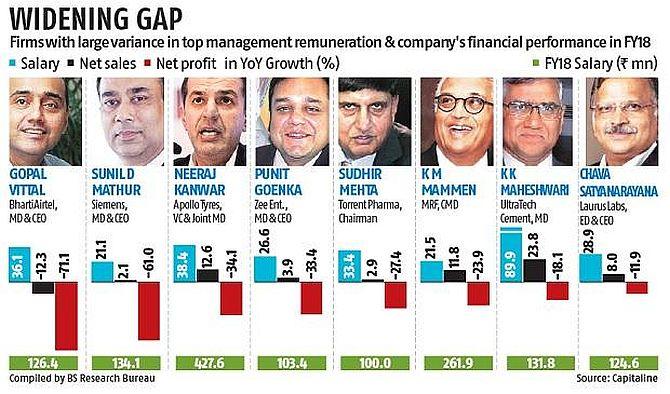 Analysts say the growing divide between the company's performance and the top management's remuneration could trigger greater scrutiny from minority shareholders, especially where institutional shareholding is large enough.
The analysis is based on financial data of a common sample of 172 listed companies whose audited balance sheets containing top management compensation for FY18 are available.
The data includes only those executives or board members whose compensation was Rs 10 million or more.
Remuneration includes fixed salary, variable pay and employee stock options, if any.
Illustration: Uttam Ghosh/Rediff.com