The US Federal Reserve's interest rate decision, global market trends and trading activity of foreign investors are the major factors that would dictate terms in the equity markets in a holiday-shortened week ahead, analysts said.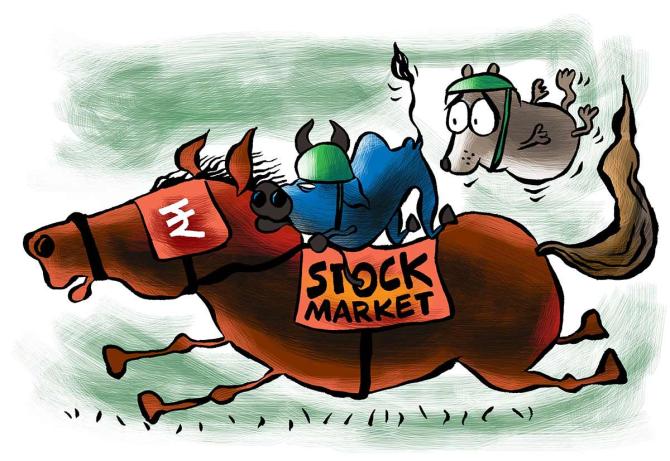 Equity markets will remain closed on Tuesday on account of Ganesh Chaturthi.
From the global front, interest rate decisions from the Bank of England and Bank of Japan would also influence market trends.
This week will place a significant focus on monetary policy as the Federal Reserve policymakers convene the latest FOMC (Federal Open Market Committee) meeting, with an interest rate decision on Wednesday, September 20, said Pravesh Gour, senior technical analyst, Swastika Investmart Ltd.
"The movement of the rupee against the dollar, US bond yields, and crude oil prices will remain in focus," Gour added.
Last week, the BSE benchmark jumped 1,239.72 points or 1.86 per cent, and the Nifty climbed 372.4 points or 1.87 per cent.
Rallying for the 11th day running on Friday, the 30-share BSE Sensex jumped 319.63 points or 0.47 per cent to settle at a record closing of 67,838.63.
During the day, it rallied 408.23 points or 0.60 per cent to hit its fresh all-time intra-day high of 67,927.23.
The Nifty went up by 89.25 points or 0.44 per cent to end at its all-time closing high of 20,192.35.
During the day, it advanced 119.35 points or 0.59 per cent to hit its lifetime intra-day peak of 20,222.45.
Vinod Nair, head of research at Geojit Financial Services, said: "Investors are now focused on upcoming data releases and central bank meetings scheduled for this week, including decisions from the US Fed Reserve, BoE (Bank of England) and BoJ (Bank of Japan)."
Investors would also focus on movement of the global oil benchmark Brent crude and the rupee.
In the coming days market may react to some major macroeconomic data such as US S&P Global manufacturing and services PMI, initial jobless claims, crude oil inventories, FOMC statement, Fed interest rate decision, UK inflation, Eurozone inflation," Arvinder Singh Nanda, senior vice president, Master Capital Services Ltd, said.