'The second generation of migrant labourers is not enthusiastic about continuing in this field.'
'The parents of the next generation do not wish their children to be part of this trade.'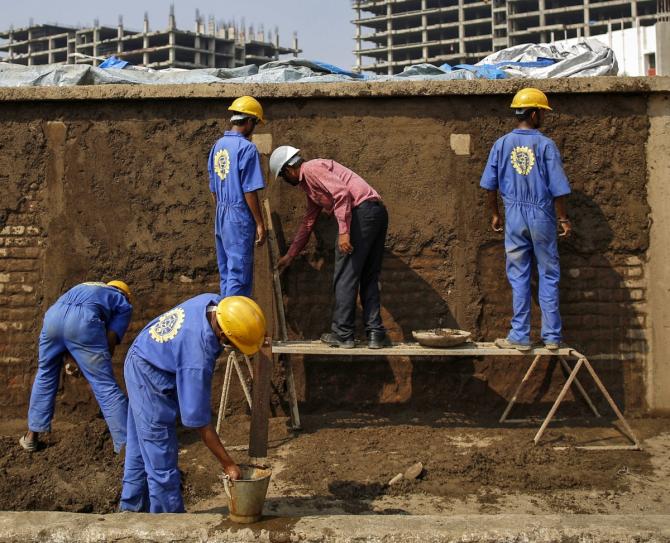 A top executive of India's largest capital goods firm, Larsen & Toubro (L&T), reveals that many client e-mails nowadays revolve around labour-related queries.
Executives from L&T's peers in the sector also bemoan similar challenges in sourcing skilled labour for projects, attributing this to a demand-supply gap that has widened due to increased infrastructure spending and changing labour aspirations.
S N Subrahmanyan, CEO and MD, L&T, states that the company currently requires around 35,000 skilled labourers and is encountering difficulties in sourcing them.
L&T is at present executing an order book of over Rs 4.12 trillion, its highest ever, indicating robust infrastructure and construction activity in the country.
India's consumption of cement and steel in the previous financial year rose by more than 8 per cent, further signalling increased building activity.
However, industry executives from capital goods firms note that the growth in the supply of skilled labour has not kept pace.
"Due to the surge in construction activity, labourers have ample opportunities. Simultaneously, the second generation of migrant labourers is not enthusiastic about continuing in this field. The parents of the next generation do not wish their children to be part of this trade. Consequently, the supply is gradually shrinking," says Milind Apte, chief human resources officer, KEC International.
Apte mentions that KEC is therefore increasingly conscientious about providing better treatment and facilities to its contract labour, exceeding the standard norms and mandates.
Subrahmanyan from L&T agrees that generational aspirations are shifting, even as demand for infrastructure growth rises.
"This is a consequence of the overall economic boom. Moreover, West Asia is experiencing a boom as well, attracting skilled labour with higher wages. It's predominantly a demand-supply gap," he adds.
L&T's executives have been actively scouting for labour from states like Jharkhand and Odisha to undergo training at their facilities for various engineering skills.
Subrahmanyan explains that they offer accommodation, meals, and stipends.
Top executives from Thermax Global, another major player in the capital goods segment, also point to a change in labour aspirations.
"This is a concern not only for us but also echoed by our peers in the industry," states Ashish Bhandari, CEO and MD of the company.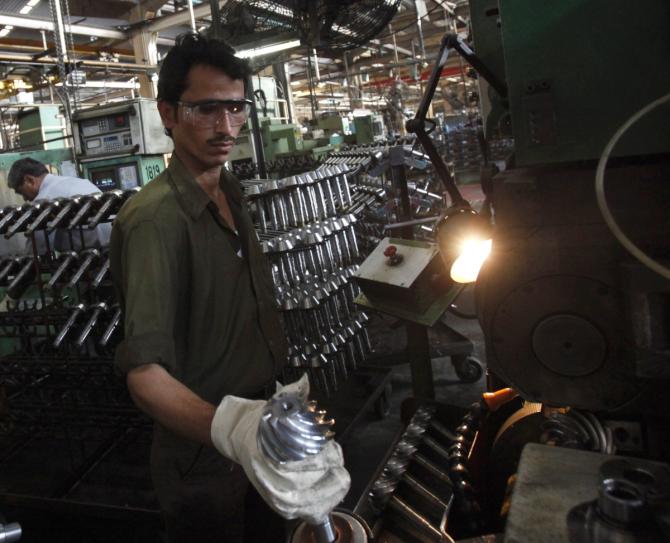 Beyond just industrial labour, companies like Thermax find payroll-level attrition to be an added challenge.
Bhandari informs analysts during an investor call following the financial results for April-June that the company witnessed its highest compensation cycle in recent years.
He notes that higher attrition was observed in the lower and medium ranks. Apte estimates that post-pandemic attrition rates are higher, reaching 15 to 16 per cent.
Kartik Narayan, CEO of staffing at TeamLease, lists factors such as demand from service sectors like banking and e-commerce, as well as performance-linked incentives in the mobile and electric mobility sectors in certain southern states. These factors have created a situation of demand push-and-pull.
"For the latest generation entering the workforce -- those in the 18-19-year age category -- preference leans toward air-conditioned workspaces and sales-incentive-based jobs," Narayan points out.
Speaking about costs, he mentions that these firms will now need to offer a 10-20 per cent premium over the prevailing minimum wages in order to attract skilled labour.
Feature Presentation: Rajesh Alva/Rediff.com