Suspicions have swirled for years that many of Sahara's millions of investors are fictitious names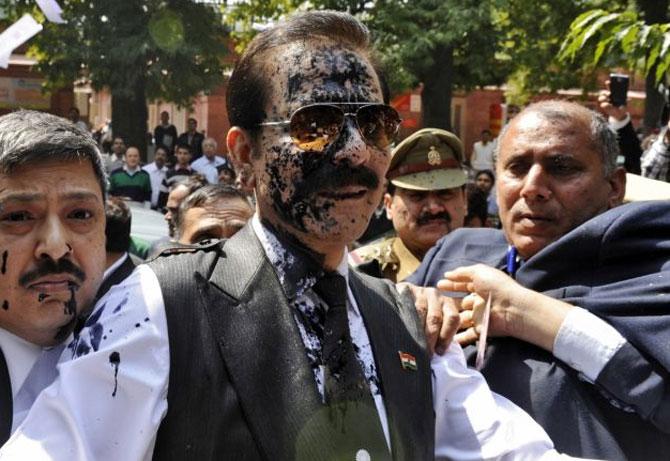 Although it has businesses ranging from finance and property to media and Formula One motor racing, India's troubled Sahara has never been very transparent on the source and use of the billions of dollars it has raised from mostly small investors.
Suspicions have swirled for years that many of Sahara's millions of investors are fictitious names.
A team of officials from the Enforcement Directorate, which is responsible for fighting economic crime, last month visited Sahara headquarters in Lucknow to gather data as part of a probe into possible money laundering, said two department officials.
"Since the data is huge we will take time to get the finer details," said one of the officials, who was part of the team. Both the officials declined to be named.
The Enforcement Directorate declined to comment officially to Reuters. Sahara did not respond to Reuters request for comment.
In India, money laundering refers to the practice of routing money into various assets outside the country, without revealing the source to avoid taxation.
Sahara has previously denied the money laundering allegations or that roughly 30 million investors in its 2008-11 financial plan - later ruled illegal by the markets regulator Securities and Exchange Board of India (Sebi) - were fictitious.
It sent a convoy of 127 trucks, purportedly filled with the documents of its investors in its 2008-11 bonds scheme, to Sebi two years ago in an effort to prove that.
The Supreme Court, which has ordered Sahara to return $5.4 billion to investors who put money in the 2008-11 plan, in August 2012 questioned the authenticity of Sahara's investors in the 2008-11 plans and whether many of them were fictitious.
Alluding to this suspicion, one of the judges of the Supreme Court had said: "Despite restraint, one is compelled to record, that the whole affair seems to be doubtful, dubious and questionable."
Sahara became a major financial institution, one of India's largest employers and owner of marquee overseas assets including New York's Plaza hotel on the back of tiny investments from farmers, street vendors and others, whose monthly income can be as low as Rs 2,000-3,000 ($30-$45) a month.
Sahara's founder Subrata Roy has spent the past 21 months in New Delhi's Tihar jail for failing to comply with the Supreme Court's order to pay back investors in the 2008-11 savings plan.
Image: File photo of Sahara group chairman Subrata Roy with his face smeared in ink thrown by an unidentified man upon his arrival at the Supreme Court in New Delhi on March 4, 2014. Photograph: Reuters
Additional reporting by Sharat Pradhan in Lucknow and Aditya Kalra in New Delhi