'The reality is no one, including some of the names that have shown up in the last few weeks, have any unilateral decision-making power in this,' Facebook India MD Ajit Mohan tells Peerzada Abrar.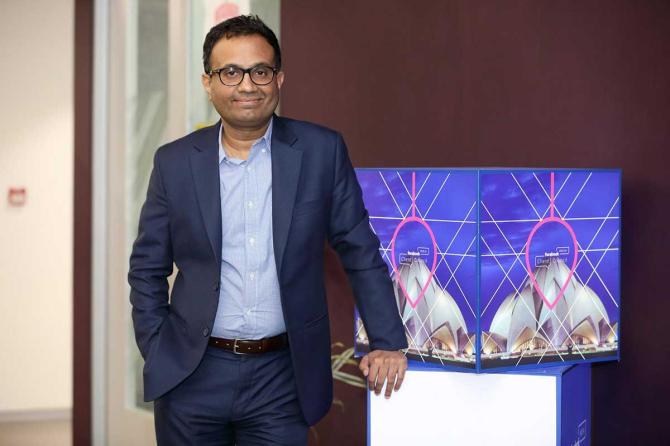 Before the lockdown, globe-trotting was a key aspect of the job for Ajit Mohan, managing director and vice-president at Facebook India, including at least a monthly trip to San Francisco.
Now he works from his home in Gurugram, a circumstance that, he says, has improved his quality of life immeasurably.
He doesn't constantly feel jet-lagged and has also started playing tennis regularly.
"Apart from that, I am assuming that the kids can actually hear me, I have to say that it has been delightful to spend time with my six yearold and 18 month old. But I'm saying that only because I think they are listening to me somewhere," says Mohan in a Zoom call from a beautiful home office decorated with paintings including one by Kolkata-based artist Suhasini Kejriwal.
Asked if he likes to paint, he quips, "My paintings are happening at Facebook."
Mohan, who joined Facebook in January 2019, spearheads the India charter for the US-based social media giant.
India is the biggest user base for Facebook with around 328 million users while its WhatsApp messaging app has 400 million users in India, also the world's highest.
But his 2020 agenda has been caught in the controversy over Facebook's political leanings and inability to monitor hate content.
Earlier this month he appeared before a Parliamentary Standing Committee on Information Technology for alleged misuse of social media platforms.
Delhi Assembly's Peace and Harmony Committee also summoned Facebook executives including Mohan to answer charges linked to the February Delhi riots.
But they skipped the hearing, saying they had already appeared before a parliamentary panel and that the subject came under the Centre.
Mohan is quick to clarify that Facebook has no tolerance for hate speech.
He says the firm objectively enforces its community standards and is investing in artificial intelligence and automated systems to detect content violating community standards, even before users can report on them.
The firm also has some 35,000 human reviewers focused only on safety and security.
He says 90 per cent of hate speech-related content that the firm removed was picked up by its AI systems before a user report came in.
So how does he explain the briefing from the head of public policy Ankhi Das for content monitoring teams not to punish hate speech by ruling party politicians because it was bad for business?
Mohan is careful to distance himself from that febrile issue.
"The content policy team in India sits separately and is independent of the public policy team. The reality is no one, including some of the names that have shown up in the last few weeks, have any unilateral decision-making power in this."
Mohan is a graduate of the School of Advanced International Studies at Johns Hopkins University and the Wharton School at the University of Pennsylvania.
He holds a Bachelor of Applied Science in computer engineering from Nanyang Technological University, Singapore.
Before Facebook, he was the CEO at Hotstar, which he built into a robust premium video streaming platform.
Mohan also spent five years at McKinsey, first in New York in its media practice and two years as a Fellow at the McKinsey Global Institute, where he co-authored India's Urban Awakening.
The 2010 report outlined a new policy approach to India's rapid urbanisation.
Mohan has also worked extensively in the social sector including initiatives in child nutrition in Bihar, anti-sex selection programmes in New Delhi and public school reforms in Cincinnati.
He has also worked on improving access to government welfare in New York for a programme run by the Robin Hood Foundation.
Mohan leads Facebook's India operations at a time when the firm aims to play a significant role in the country's digital transformation.
The firm recently invested $5.7 billion in Reliance Industries' Jio Platforms and also backed edtech company Unacademy.
Last year, it invested in social commerce startup Meesho.
Mohan says these investments are a sign of Facebook's commitment to India and the role that digital will play in transforming the country's economy.
For example, WhatsApp has partnered with Reliance's e-commerce venture Jiomart to bring local kirana stores online.
Right now, though, his ability to negotiate the current crisis triggered by the content policy team will be his biggest leadership test yet.
Feature Presentation: Ashish Narsale/ Rediff.com