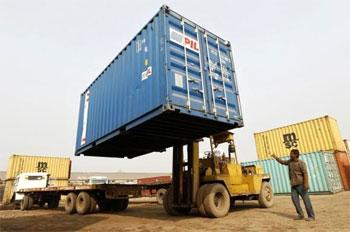 Exports fell for a third straight month in February, underscoring a risk to the economic growth, as a steep decline in shipments to major markets such as the European Union suggested orders falling for Indian factories.
Weak global demand and a decline in the value of oil product exports on the back of falling crude prices dragged down India's merchandise exports, which account for nearly a fifth of the country's $2 trillion economy, last month.
Exports in February fell to $21.55 billion compared with $25.35 billion a year ago, the data released by the ministry of commerce and industry showed on Friday.
The data paints a mixed picture for Asia's third-largest economy, as imports too continued to fall due to weak demand in the manufacturing sector despite an uptick in the economy.
"Curtailed demand for Indian exports remains a risk factor that may temper the growth of Indian economic activity going ahead," said Aditi Nayar, an economist at ICRA, the Indian arm of rating agency Moody's.
She said the muted growth in services exports and contraction in merchandise exports underscore weak demand for Indian exports amid sluggish growth in overseas markets.
India's trade deficit narrowed to a 17-month low of $6.8 billion in February as oil imports more than halved from a month earlier, government data showed on Friday.
Imports fell an annual 15.66 per cent last month year-on-year to $28.39 billion.
However, gold imports jumped 48 percent in February to $1.98 billion, and the economists expect the demand for gold could pick up during the upcoming wedding and festival season.
Indian exporters have been unable to take advantage of the weakness in the Indian rupee, which has dropped nearly 2 percent since Feb. 1, due to lower demand.
Prime Minister Narendra Modi has set a target of up to 8.5 per cent economic growth in the 2015-16 fiscal year that starts in April, signalling expectations of a sharper pick up in economy.