Prime Minister Manmohan Singh, on Tuesday, approved the appointment of Raghuram Rajan, the chief economic adviser in the finance ministry, as the next governor of the Reserve Bank of India for a three-year term.
Rajan will replace Duvvuri Subbarao, whose tenure ends on September 4 after five years.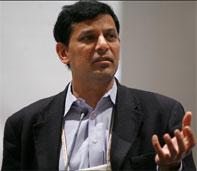 Expert view:
Navneet Munot, Chief Investment Officer, Sbi Mutual Fund, Mumbai
"RBI has multiple objectives and several times they are at odds with each so it's very difficult to say at this stage if this person will be hawkish or dovish, but given his background and stature, this should send the right signal to investors."
Robert Prior, Wandesforde, Economist, Credit Suisse, Singapore
"He is a highly credible, experienced economist. He has no central banking background so it will be a steep learning curve. Effective credible communication with market is an important part of the job.
"The jury is out on his monetary policy views. My assumption is he will be pragmatic. Hopefully he will be a safe pair of hands."
Sujan Hajra, Chief Economist, Anand Rathi, Mumbai
"Rajan has previously worked with RBI as a consultant and with the government. He also has international experience with the IMF. I would think he would have a holistic view.
"He is familiar with Indian policy circles and has ground feel. We have seen people like Stanley Fischer (Israel) have played a good role as governor after coming from IMF.
"He is clearly emphasising the need to bring back growth. He will be more pro-growth."
Radhika Rao, Economist, Dbs, Singapore
"Rajan's appointment will be perceived as a positive development but a change in the policy direction is unlikely as the environment for the new governor is equally challenging.
"Weighing the inflationary risks, rupee depreciation and growth headwinds, the new appointee is also likely to lean towards status quo on the rates front. However some stop-gap measures to plug rupee depreciation might be resorted to in a bid to calm the markets."
Market reaction
The partially convertible rupee trimmed losses to trade at 61.35/36 per dollar from 61.45 before the announcement.
The benchmark 10-year bond yield dropped 2 basis points to 8.21 per cent.
The stock market closed ahead of the announcement.