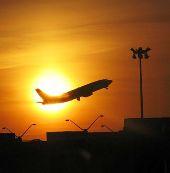 The number of weekly domestic flights this summer would come down from about 13,000 last year to little over 11,500 this year with most airlines scaling down operations.

Only two no-frill carriers, IndiGo and SpiceJet, have applied for permission for more flights from the DGCA this season than they did last year, official sources said, adding that other airlines have scaled down the number of flights they wish to operate this year.

The aviation regulator has approved a total of 11,541 departures per week covering 76
destinations for the summer season which would end in October, official data showed.
The highest number of domestic flights approved were 3,441 for Jet Airways-JetLite combine, followed by 2,821 of IndiGo, 2,467 for SpiceJet, 2,061 of Air India-Alliance Air combine and 751 for GoAir.
During the summer season which would end in October, Air India and its subsidiary Air India Express would jointly operate the highest number of international flights -- 1,056 each week, followed by 708 of Jet Airways, 190 of IndiGo and 162 of SpiceJet, the data showed.