European airports are wooing Indian airlines in the wake of intense competition from aviation hubs such as Dubai and Doha.
According to civil aviation ministry data, 37 million passengers flew to or from India in 2010-11, of which 11.4 million were connected by hubs outside India. Dubai, Doha, Frankfurt, Sharjah and Singapore are the top aviation hubs preferred by Indians.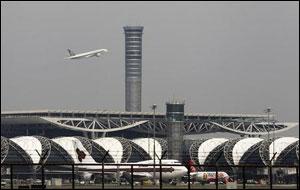 Now, airports in Europe, including those in Amsterdam, Dublin, London, Gatwick and Munich, are luring Indian airlines to start direct services. Representatives from these cities met Air India and Jet Airways executives at the Routes Asia conference here over the past two days.
"We are discussing with Indian airlines. Munich would be a logical choice for Jet Airways in Germany,'' said Oliver Dersch, director (traffic development) of the airport. "Etihad owns Air Berlin, which has a wide network from Munich. Air Berlin flew four million passengers from Munich last year." Munich airport is also expanding its terminal, to enable it to handle 65 million passengers a year, up from 50 million.
Currently, only Lufthansa flies from Munich to India. Jet Airways had secured government approval to start flights to Munich and was evaluating plans to shift its European hub there, from Brussels, as a part of wider code share partnership with Lufthansa but the plan has not taken off.
"The Indian market is important with major potential for growth. We are in dialogue with Indian carriers,'' said Wilco Sweijen, director (aviation marketing) at Amsterdam's Schiphol airport. Traffic volume in 2012 between India and Amsterdam on direct flights; of these, 75 per cent was connecting traffic. "It is not the money which brings airlines to Schiphol but the market,'' he said, adding the development of an information technology hub in Amsterdam would boost traffic between the two countries.
A few years earlier, Kingfisher Airlines had indicated plans to start a hub in Amsterdam. However, the airline's operating permit was suspended last year and it stopped flying on international routes 10 months earlier.
Gatwick, one of the airports at London, is also making effort to attract Indian carriers. Air India, British Airways and Jet Airways have direct flights to London's Heathrow airport but Gatwick is not connected. "We have a lower passenger fee than Heathrow and utilise only 75 per cent runway capacity at the moment,'' said Simon Edwards, business development manager at Gatwick, noting Heathrow suffers from capacity constraints.
Competing hub:

37 mn passengers flew to or from India in 2010-11, of which 11.4 mn were connected by hubs outside India

European airports wooing Indian carriers to start direct services, as they try to beat rivals Dubai and Doha

Currently, only Lufthansa flies from Munich to India