Jet Airways-Etihad Airways deal has hit an air pocket over the issue of protection to its investment in India.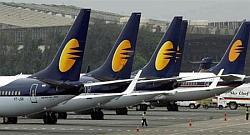 The two airlines have been negotiating a stake sale deal since last August in which Etihad will buy 24 per cent in Jet Airways.

However, the deal has been held up as India and UAE government are yet to conclude the bilateral investment promotion and protection agreement (BIPA).

Prime Minister Manmohan Singh was due to visit Abu Dhabi this week enroute to BRICS summit in South Africa but cancelled his trip to Abu Dhabi. This has put the Jet-Etihad deal on the backburner.

On Monday, a news channel flashed that the deal has been called off owing to differences between two sides but Jet Airways denied it. "The information
is not correct and at the same time is merely speculative.''
Jet sources, however, confirmed that the deal had been held up over the issue of investor protection. An official also said that there was still room for negotiation and Etihad has not explicitly said it will not sign the agreement until BIPA is signed.
Etihad has also sought an option to hike its stake to 49 per cent. Sources, close to the deal, say Etihad has asked for its representation on the board of the Indian airline, in sync with its shareholding.
It wants operational control over the airline, as well as its fleet acquisition plans.
The West Asian carrier has also sought protection under a Bilateral Investment Promotion and Protection Agreement (Bipa), arguing it does not want to face a situation similar to what telecom giant Etisalat faced in India.