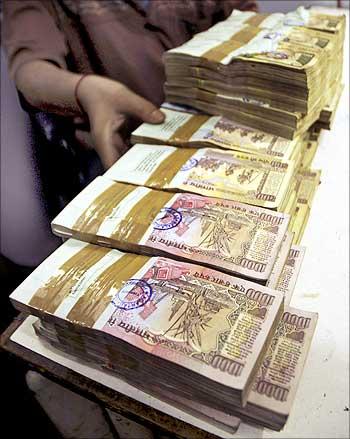 After reaping rich returns with their stock investments in 2012, mutual funds have begun the new year on a high note with plans to pay dividends to their investors in equity funds.
Mutual funds, which are among the most significant players in the country's stock market, sold equities worth Rs 20,000 crore last year as they booked profits after stocks soared on the back of reforms and FII inflows.
Now, the fund houses are lining up dividend payments from the realised gains for their respective investors. Market regulator Sebi had in March 2010 asked funds to give dividends from realised gains only, and not from unit premium reserve.
Those having already announced their dividends include a large number of banking-focused schemes, which gained an average of 55 per cent in 2012.
Among these, Reliance Mutual Fund has fixed January 18 as the record date for declaration of dividend under the dividend option of Reliance Banking Fund. The quantum of dividend will be Rs 4 on face value of Rs 10 per unit. Similarly, Sahara
Banking & Financial Services Fund is giving Rs 2.50 per unit and the dividend declared is tax free in investors' hands.
Tax-saving funds, which rose average 31 per cent last year, are also trying to perk up investor sentiment ahead of the busy season in March. Fund house Franklin has proposed dividend payments for at least two of its tax-saving schemes.
Mid-cap focussed funds like ICICI Prudential Midcap, which was among top 100 funds last year in terms of gains, has also declared 20 per cent (Rs 2 per unit) dividend.
Others having dividend payments for their equity schemes include PineBridge, Tata, DSP BlackRock Mutual Fund. There are more than 400 equity schemes in the country, managing assets worth about Rs 1.66 lakh crore.