India's largest asset manager SBI Funds Management on Tuesday said they are negative on equities from a shorter-term perspective as valuations have risen above the comfort zone.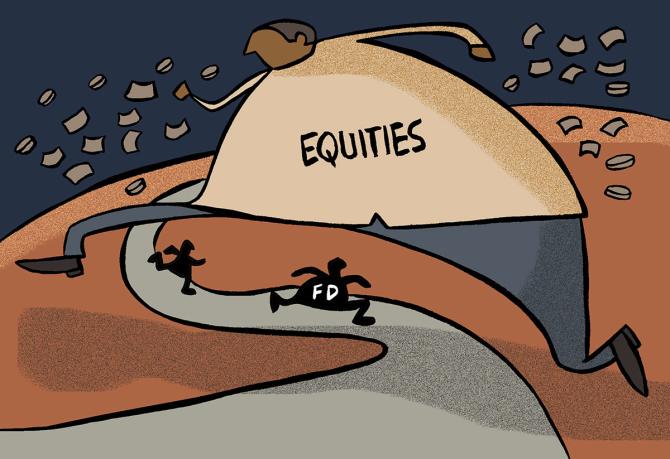 "We are not positive on equities. We think valuations are expensive.
"The market has gone up a lot more than the earnings have grown," said R Srinivasan, Chief Investment Officer (CIO) - Equity at SBI Mutual Fund, at the launch of asset management companies' (AMC) yearly report on the market outlook.
The CIO further said that investors should lower their return expectations from equities in the present valuation and macro-economic scenario.
Currently, the benchmark index Nifty50 is trading at a price-to-earnings (PE) ratio of 22.2.
The ratio, which was around 21 in March, has risen on the back of the ongoing rally since April.
Highlighting the mismatch between earnings growth and stock market performance since 2014, Srinivasan said that while the earnings remained almost flat between FY 2014 and FY 2020, the Nifty50 almost doubled to 12,000.
The earnings growth has since picked up, but valuations remain high.
"Directionally, we are positive on earnings growth but a little cautious from the macro-economic perspective," he said, adding that 'value' stocks are likely to continue outperforming in coming years.
Value stocks are those that trade at relatively lower valuations. Most public sector stocks fall in this category.
"Our view is that the economy will decelerate and the market will maintain a defensive bias.
"In such a situation, investors should prefer bonds over equities.
"However, from a longer-term perspective, this is the right time to accumulate equities," Gaurav Mehta - CIO, Alternatives.