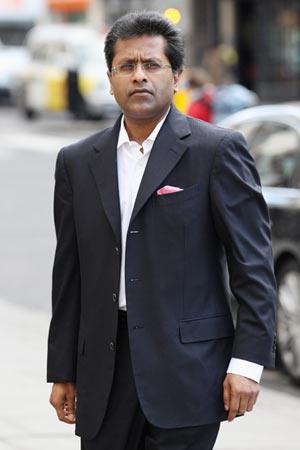 The Enforcement Directorate has started adjudicating proceedings against former Indian Premier League commissioner Lalit Modi in 16 cases of violation of the Foreign Exchange Management Act and will issue him a notice in a case relating to laundering Rs 1,206 crore (Rs 12.06 billion).

Sources said Modi and functionaries of the Board of Control for Cricket in India had given replies in the Fema cases involving Rs 2,062 crore (Rs 20.62 billion).
"We are examining violations of the Prevention of Money Laundering Act and will issue a show-cause notice soon," an official said.

"As and when we receive anything from ED, we will deal with it appropriately under the applicable law and procedure, as we have been doing so far. We have no problem in doing so as we have a strong legal case.
Lalit Modi is not the only party to receive the notice in the matter.
Other officials of BCCI at other relevant point of times have received notices," Modi's lawyer Mehmood Abdi told Business Standard.
The money laundering case relates to a police complaint filed by former BCCI chief N Srinivasan against Modi and one entity for financial impropriety in awarding media rights for broadcast of IPL matches.
The case was registered by the Chennai police under Sections 409, 420, 468 and 477 of the Indian Penal Code dealing with forgery, fraud, criminal breach of trust and fraudulent cancellation of contracts.
With Modi out of India, ED has been relying on his chartered accountants and lawyers for replies.
Sources admitted ED was facing hurdles because of Modi's absence over the latest notice issued in February for alleged Fema violation of Rs 425 crore (Rs 4.25 billion).
External Affairs Minister Sushma Swaraj has been caught on the wrong foot for facilitating Modi's travel from the UK to Portugal on 'humanitarian grounds'.
The controversy started when the British media published leaked emails of British member of Parliament Keith Vaz that named Swaraj and indicated the minister had requested the UK to allow Modi to travel to Portugal.
In an interview to a daily news channel, Modi challenged ED to prove the charges against him.

The directorate has been relying on a chain of mails to prove charges of money laundering. According to sources, the mails prove entities had forged contracts and duped other broadcast agencies into entering a facilitation agreement.

"A facilitation agreement was entered into by two broadcast agencies under the supervision of BCCI. The contract of one of the firms was already over. The facilitation agreement was entered into under a false guise as though it was still in existence," said a source.

The investigative agency is also probing the flow of money. The agency has asked the Chennai police to hand over the details of bank accounts and properties identified between 2010 and 2015.
WHAT ENFORCEMENT DIRECTORATE SAYS
Started penalty proceedings in 16 Foreign Exchange Management Act violation cases, contravention amount Rs 2,062 crore (Rs 20.62 billion)

Penalty could be three times of amount involved (Rs 1,600 crore or Rs 16 billion)

In process of issuing show-cause notice under PMLA for bungling of funds in awarding broadcast rights of Indian Premier League

Chennai police had registered a case under charges of fraud, forgery and breach of trust

In Modi's absence, ED has received interim replies to its show-cause notices through his lawyer and chartered accountant

ED also examining money flow in 2010-2015
Image: Lalit Modi; Photograph: Rediff Archives