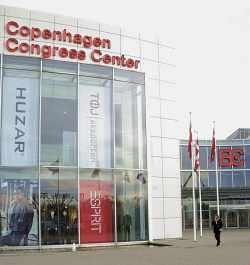 Bella Centre, the venue of the UN-sponsored Climate Summit in Copenhagen, has invested nearly 2.5 million euro in energy efficiency in the last two years in the run-up to the historic meet, which has earned it the coveted 'Green Key' certificate.
To ensure that the nearly two-week Summit, the biggest on climate, is as environment-friendly as the Centre, the organisers have ensured that paper, plastic, metal, wood and glass used are recycled to the highest degree possible by an EMAS-certified local waste management company.
"By investing 2.5 million euro in energy efficiency up to COP15 it has achieved a CO2 reduction of 20 per cent on the base level of 2007, thus reducing more than 1500 tonnes per COs between 2007-2009 in collaboration with the Denmark foreign affairs ministry," says the website of the UN Framework on Climate Change.
In existence since 1970s, the Bella Centre, which has hosted various international events, signifies how older buildings can become more energy-efficient and environment- friendly.
The Centre has already earned to it credit the 'Green Key' -- a green certification for energy saving and environmentally-friendly venues with solar films installed on all windows, energy saving electrical fittings, new motors and fans in air-conditioning units and motors replaced in the ventilation system, employee behaviour, and a new waste system.
"All remaining waste will be transported and burned at the local garbage incineration plant, Amagerforbrendingen, a few kilometres from Bella Center to be transformed into energy, supplying households with electricity," the UNFCCC website says.
Other energy efficiency measures include availability of high quality ground water from all tap water stations at Bella Center for free.
"In all climate kitchens, cafes and restaurants the aim is to use as much chinaware and glasses as possible, while those opting for disposable materials can use plastic glasses and coffee cups which are made of organic biodegradable material (PLA)," it adds.
Similarly, Energy Star 4.0 and 5.0 complaints laptop, recyclable pens and notepads are available at the meet which is being attended by nearly 16,000 delegates across the world. The wind turbine in front of Bella Center is a symbol of the large wind power sector and is connected directly to the Danish grid.
It produces power for about 250 households. The estimated consumption of heat at Bella Center during November and December 2009 (COP15 including logistical preparation and deconstruction) will be about 1400 Megawatt hours per month, the website estimates.