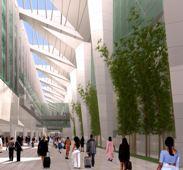 As a special gesture, the world's largest aircraft, Airbus A-380, belonging to the premier United Arab Emirates carrier Emirates, will arrive at the newly-built Terminal-3 of the IGI Airport in New Delhi on July 15.
The 517-seater superjumbo will operate flight EK-516 on the Dubai-Delhi route to celebrate the launch of T-3 as a one-time gesture by the airline, an Emirates spokesperson said.
This is the second time that the superjumbo is flying into Delhi, the first being brought in by the Airbus in association with Kingfisher Airlines soon after it placed orders for five of these planes in June 2005.
Bookings for the special Emirates flight opened on Tuesday with the offering of special return fare of Rs 9,990 plus taxes, the spokesperson of the Dubai-based airline said.
"The fact that we are bringing the A-380 here is a reiteration of the potential that we see in the Indian market and our intent to partner with the nation in its growth," Emirates' senior vice president Majid al Mualla said.
T-3 is equipped with aerobridges which can handle the large number of passengers arriving or departing on the double-decker aircraft.
The flight will arrive in Delhi at 1450 hours and return to Dubai as EK-517 at 1750 hours.
The A-380 has 517 seats, inclusive of 14 flat-bed First Class suites, 76 fully-flat seats in the Business Class 427 comfortably contoured seats in the Economy spread across four cabins on the lower deck, the statement said.
Emirates, which has been operating in India for the last 25 years, now flies to 10 Indian cities and has 184 flights each week.