Steady progress in June; north and central regions to get good pre-showers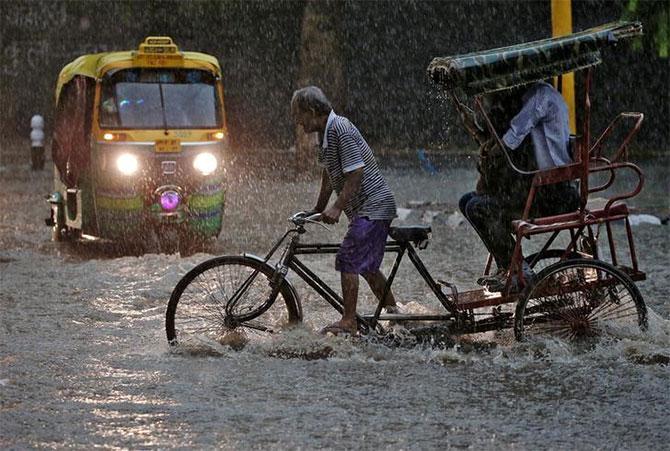 As of now, the southwest monsoon is expected to arrive before the usual time over the mainland. And, to progress steadily thereafter over the western parts, delivering above-normal rain in June, first month of the four-month season.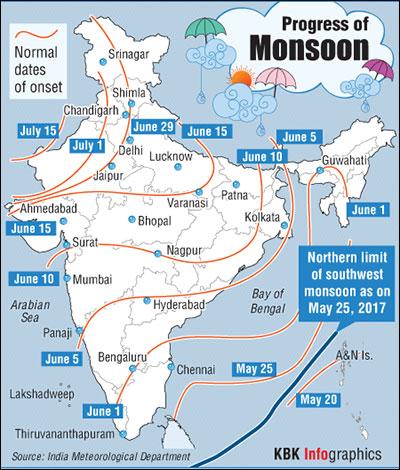 Normal rain in June is 164 mm. In July and August, respectively 289 mm and 269 mm.
"After its onset on May 29-30, the southwest monsoon is expected to make steady progress over the west coast, southern peninsular India and even the east and northeast," says Mahesh Palawat, chief meteorologist at private weather forecasting agency Skymet.
He said Chhattisgarh and Vidarbha were expected to get a good amount of pre-monsoon showers during June, where the usual onset date is late June or early July.
D S Pai, director of long-range forecasts at the government's India Meteorological Department (IMD) agrees.
He says after the monsoon's onset around May 30, the rains are expected to progress quickly over the west coast, due to formation of a low pressure area, aiding its push into the mainland.
As of now, said Pai, distribution of rain across the country looks fairly well. IMD is to issue regional and month-wise predictions early next month.
As of now, it feels the monsoon could be even more than its initial forecast of 96 per cent of the Long Period Average. This is the average rain India got in the 50 years from 1951, around 890 mm.
One reason for its optimism is weakening of the adverse El Niño weather condition. The Australian Weather Bureau, considered among the authentic voices on El Niño, has said there is a 50 per cent chance of it this year but most of its models are suggesting this would be a weak one.
IMD's first forecast had said a weak El Niño, coupled with a neutral to positive Indian Ocean Dipole, should greatly benefit the southwest monsoon.
And, that the rains in 2017 could be very evenly spread, a critical element for India. That and a timely southwest monsoon would ensure a good kharif harvest, following the record production in 2016-17.
Photograph: Cathal McNaughton/Reuters