SBI's extraordinary general meeting on Monday is the latest case where the facility has not been allowed for shareholders, despite last year's circular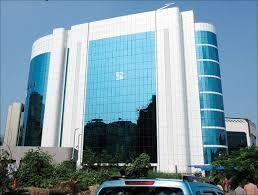 The Securities and Exchange Board of India is taking a close look at complaints about the irregularities in implementation of the e-voting facility, made mandatory in April last year.
The regulator's concern arises from several recent instances of the facility not being offered by large companies, according to officials in the know.
Though most large companies have been offering this electronic facility for their annual general meetings, lapses are being increasingly seen in supplementary meetings such as extraordinary general meetings and meetings called to approve restructuring and merger schemes sanctioned by courts.
The latest on the list is State Bank of India.
Its EGM, scheduled for Tuesday, does not offer the facility to investors.
SBI has called the meeting to approve a preferential issue of shares.
This is the second time in a month the country's largest bank has called for a shareholders' meet without the e-voting provision.
An EGM on February 26 also did not provide e-voting; only 638 of its 1.1 million shareholders participated.
SBI's associate entity, State Bank of Bikaner and Jaipur, also conducted an EGM in February without providing an e-voting facility.
Only 92 of its 60,190 shareholders attended.
An email sent by Business Standard to the group compliance officer at SBI, with a copy marked to the chairman and managing director, did not elicit a response.
Last month, this newspaper had reported how Jaiprakash Power Ventures did not provide the facility for its proposal to approve a restructuring process approved by a court.
The management's proposals sailed through, with only 174 of the 332,000 public shareholders (0.05 per cent) attending.
NTPC's meet in February is another recent instance of shareholder meets to clear court-approved schemes for restructuring skipping the e-voting requirement. Only 659 of the 717,121 NTPC shareholders attended.
Companies such as Jaiprakash Power have cited a circular that predates the new listing agreement, taking a view that the provisions do not apply to 'court-convened' meetings.
However, shareholder activists are taking a view that no such exemption is expressly spelt out in the listing agreement or any other subsequent communication from the regulator.
Shareholders argue the narrower view taken by companies is against the spirit of the amendments to the listing agreement, which seek to improve shareholder participation on key resolutions.
Court-approved schemes are critical, as these could involve transfer of assets worth hundreds of crores of rupees.
"Non-provision of e-voting facility to shareholders is not only non-compliance with the listing agreement.
"It is an extremely poor governance practice, as it restrains shareholders who cannot access the meeting venue easily from exercising their right," said J N Gupta, founder of Stakeholders' Empowerment Services, a proxy advisory firm.
Gupta cites the poor attendance figures of these meetings to back SES' opinion that disclosures made by the companies in their notices are meaningless unless all shareholders are enabled to participate.
He argues the e-voting requirement applies to all shareholder resolutions, regardless of the 'nomenclature' of the meeting.
The electronic voting facility was made mandatory by Sebi for all shareholder meetings and postal ballots in April last year, as part of the new listing agreement.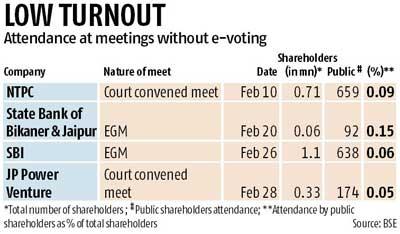 Clause 35B of the agreement, as in its circular CIR/CFD/POLICY CELL/2/2014, of April 17, clearly stipulates: "The issuer agrees to provide e-voting facility to its shareholders, in respect of all shareholders' resolutions, to be passed at General Meetings or through postal ballot.
"Such e-voting facility shall be kept open for such period specified under the Companies (Management and Administration) Rules, 2014, for shareholders to send their assent or dissent."
Under the system, each shareholder is given a unique password allowing him or her to log on.
Investors can cast their votes till the final day from the comfort of their home or office, while eliminating the chances of their vote being declared invalid.
E-voting platforms are offered by the two main depositories -- National Securities Depository and Central Depository Services.
Karvy Computershare, a registrar and transfer agent, also provides an e-voting platform. These are all approved by the Union ministry of corporate affairs.