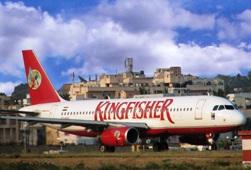 In fresh trouble for beleaguered Kingfisher Airlines, the Mumbai airport authorities may issue an eviction notice after the grounded carrier failed to respond to an earlier notice asking it to clear the Rs 22 crore (Rs 220 million) dues towards parking and navigational charges.

The notice for clearing the dues, served 10 days ago, gave the airliner 7 days time to make the payment but it has not yet responded, Mumbai International Airport Limited sources told PTI on Monday.

"We have yet to hear from Kingfisher Airlines on our notice.

They were given seven days time to clear our dues and so far neither they have responded to the notice nor have made any payment," sources said speaking on condition of anonymity.

They said the airport operator may now slap an eviction notice on the cash-strapped airline and lease out the space to other carriers.

The Vijay Mallya-owned carrier has been grounded since October 1 and its flying license suspended.

The airport has two terminals. While national carrier Air India and Kingfisher (before being grounded) operate from Terminal A, the rest including Jet Airways, SpiceJet, IndiGo and GoAir, operate from Terminal B.

With Kingfisher unlikely to take off in the immediate future, the airport is negotiating with other carriers to allocate them the space hitherto occupied by the Mallya-owned
airline.
"Discussions are going on but we have not taken a final call," the sources said.
Kingfisher has been grounded since October 1 following a strike by its pilots and engineers over non-payment of salary dues.
The strike was called off on October 24 after the airline management assured them payment of their dues for March, April and May in a staggered manner by Diwali.
Though, it managed to pay for March and April, the carrier failed to pay the May salary to most employees barring those drawing under Rs 20,000 per month.
Effectively, the airline has not paid salaries to most of its 4,000 employees since May.
On October 19, in the middle of the strike, aviation regulator DGCA suspended its flying license.
The airline has a bank credit of Rs 7,000 crore (Rs 70 billion) and the unpaid interest since January this year thereon, apart from over Rs 10,000 crore (Rs 100 billion) of accumulated losses since its launch in May 2005.
A consortium of 17 lenders, led by State Bank of India, had set a November 30 deadline to bring in additional capital to the tune of at least Rs 5,000 crore (Rs 50 billion) as a pre-condition to consider the airline's request for more working capital loan.
However, there has been no word from the company about the bankers' demand.