The city of Chicago too will be partaking in Dubai's moment of architectural feat when the world's tallest building - the Burj Dubai - is unveiled on Monday.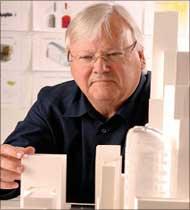 Sixty-five-year-old Adrian Smith, a Chicago-based architect has designed the Burj Dubai, the silvery, heat-deflecting skyscraper that rises to more than 2,600 feet.
The Burj is taller than two of Chicago's own skyscrapers - John Hancock Centre and Willis Tower - stacked atop each other.
"I was always interested in height. The Burj is like a sand castle. It just keeps going up," The Chicago Tribune has quoted Smith, who heads his own architecture firm Adrian Smith Gordon Gill Architecture, as saying.
The $1.5 billion mixed-use skyscraper represents a "personal high point" for Smith, who led the design of three of the world's 10 tallest buildings -- the Burj Dubai, Chicago's Trump International Hotel & Tower and the Jin Mao Building in Shanghai.
"From the foundation established in Chicago, that legacy is now being exported to other countries," Art Institute of Chicago's architecture and design curator Joseph Rosa said.
"There is a reason why they go to someone like Adrian Smith -- he is known for building quality tall buildings," Rosa added.
The Burj Dubai, developed by Emaar Properties, would house a hotel designed by Giorgio Armani, condominiums, offices and an observatory on the 124th of its 154 occupied floors.
It is a thin, three-winged tower that rises so high that the temperature outside its top has been known to be 20 degrees cooler than the temperature on the ground.
Smith's portfolio also includes the Art Deco-influenced 37-storey NBC Tower in Chicago and the pagoda-inspired, 88-storey Jin Mao building in Shanghai, which put him on the global map.
It was, until recently, China's tallest building and led Emaar to ask Smith and SOM to take part in a 2003 design competition for the Burj Dubai.
Emaar mandated that the design produce the world's tallest building.