Drug sale volumes are almost stuck at pre-pandemic levels but price growth has improved value, data from market research agency Pharmarack AWACS showed.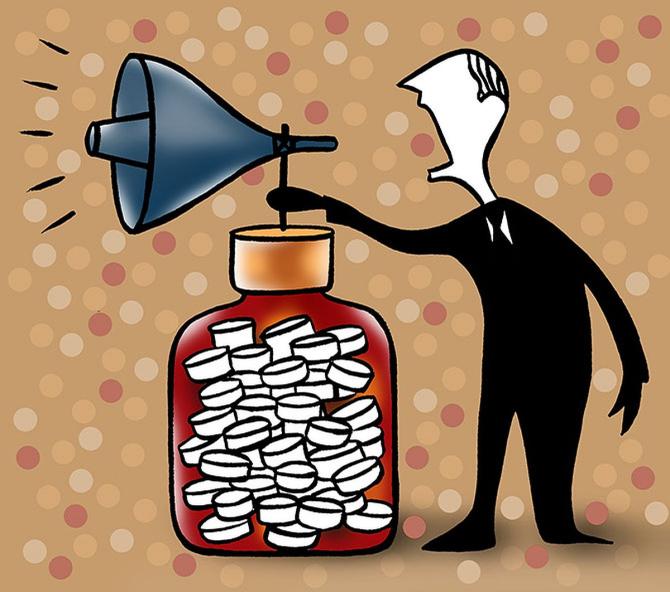 The Indian pharmaceutical market's (IPM) volumes in April 2023 grew by 0.21 per cent when compared to April 2019.
Key therapy areas like cardiac, anti-diabetic and vitamins recorded negative volume or consumption growth, while respiratory, anti-infectives, and pain and analgesics had positive growth from April 2019 to April this year. (see chart).
Covid-19 primarily affects the respiratory system; individuals who have recovered from the virus may experience long-term respiratory symptoms like cough or shortness of breath.
For people with pre-existing conditions like asthma, the impact could be even more severe.
Respiratory medicines are doing well. In April 2023, when IPM declined in value and volume for the majority of therapies, respiratory and anti-infective therapies grew.
"Most of the key therapy areas in the Indian Pharmaceutical Market (IPM) have shown a decline in growth in the month of April, barring the anti-infectives, respiratory and pain and analgesics therapies.
"Even in the pain and analgesics segment, the volume growth has stagnated.
"The respiratory therapy shows growth in both value and volume," said Sheetal Sapale, vice president, commercial, Pharmarack AWACS.
While volumes remaining stagnant are a concern, the value growth has been positive for the IPM.
IPM's size in April 2019 was Rs 132,810 crore (moving annual turnover or MAT).
This has increased to Rs 184,859 crore in April 2023. Compared to MAT April 2022, the IPM has clocked a 9.7 percent growth.
Same is true for all the major therapies – they have grown in value terms.
Cardiac therapy, for example, has grown from Rs 16527 crore MAT value in April 2019 to Rs 239,99 crore in April 2023.
The value growth is coming from price increases taken by drug firms.
If one considers MAT April 2023, then volume growth is muted at 1.9 per cent, while price growth is 5.9 per cent and new product growth is 1.8 per cent.
If we consider only the month of April 2023, we see that volumes have declined by 8.2 per cent compared to the same period last year, while price has grown by 4.8 per cent.
Volumes remaining stagnant for most therapies indicates that despite patents putting off key cardiac and diabetes drugs, the market has not expanded, said the senior executive of a mid-sized pharmaceutical firm.
"In diabetes segment for example, new product growth annually has been around 5.4 per cent, but the volumes have declined by 1.1 per cent or so.
"Price growth too is only one percent," he said, adding that this indicates that the prices have come down post patent expiry of key gliptins (vildagliptin etc) but volumes have not grown.
"People have simply switched to the lower priced off patent drug from their existing class of drug, but the overall market volumes have not grown.
"Consumption is relatively stagnant, and this indeed is a concern," he said on grounds of anonymity.
Vitamin demand is declining after sales spiked during the pandemic when people were concerned about their immunity.
Pharmarack AWACS data showed that vitamin sales volumes dipped by 12.4 percent in April 2023, and on a full year or MAT basis, the volumes were down by 0.8 percent in April 2023.