Chinese Premier Premier Li Keqiang said world economic recovery should not be driven by mainly China, but in concert with many countries.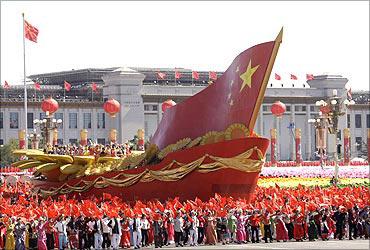 The world should not pin its hopes on China to be the sole engine of growth, Premier Li Keqiang said on Friday, underlining that his country cannot shoulder major responsibilities of the world economy post Brexit downturn.
"China is still a developing country. We cannot shoulder the major responsibilities of the world economy," Li said at a rare round table talk with six global trade and finance leaders, including heads of IMF and the World Bank.
Li said world economic recovery should not be driven by mainly China, but in concert with many countries.
"Given the financial fluctuations as a result of Brexit, China will advance market-based reform of its exchange rate. We will not engage in a trade war or currency war," he said.
Li's comments came days after the IMF forecasted that uncertainty created by Britain's vote to leave the 28-nation European Union would slow the world economy into next year.
The International Monetary Fund (IMF) increased its growth forecast for China in 2016 due to Beijing's "determined and decisive" implementation of reforms and the "steady" support for the economy, said managing director Christine Lagarde.
Chinese economy posted 6.9 per cent growth rate last year and the government has fixed the target between 6.5 to 7 per cent this year.
Lagarde told the media later that IMF had increased the growth forecast for China in 2016 by 0.1 percentage point to 6.6 per cent from 6.5 per cent.
"First of all, we have witnessed the determined and decisive implementation of reforms; and second, there was also support given to the economy in order to encourage growth to go forward," she was quoted as saying by the state-run Xinhua news agency.
"On the latter point, it did not take the form of vast fiscal stimulus but simply some solid and steady support in order to make sure that growth was indeed sustainable," she added.
This is the first time a "1+6" round-table meeting has been held in China. The theme of the meeting was "promoting strong, sustainable, and balanced growth of the Chinese and global economy".
World Bank President Jim Yong Kim, World Trade Organisation Director General Roberto Azevedo, International Labor Organisation Director General Guy Ryder, Organisation for Economic Cooperation and Development Secretary-general Angel Gurria and Financial Stability Board Chairman Mark Carney also attended the meeting.
The meeting was held ahead of the G20 central bank governors' meeting in Chengdu tomorrow.
According to a joint press statement issued after the meeting, the participants of the meeting agreed that the round-table should become a regular mechanism to strengthen ties between China and international organisations, deepen communication and cooperation in the international economic and financial arena and jointly explore responses to global economic challenges.