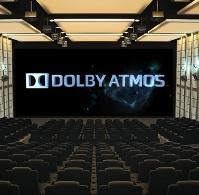 Dolby Laboratories and SPI Cinemas, one of the leading motion picture exhibitors in India has announced one of the biggest deals in the history of Dolby itself.
Now, SPI Cinemas will install Dolby Atmos in 37 screens across Chennai and Coimbatore.
"SPI Cinemas has always been at the forefront of cinema technology and consequently was the first exhibitor in India to introduce Dolby Atmos at our flagship locations Sathyam and Escape in Chennai. In my opinion, Dolby Atmos is the only truly revolutionary cinema sound technology that has been developed in the past 20 years. The audience response to the first two Dolby Atmos screens has been very positive. You feel as if the story is unfolding around you, not just on the movie screen. Dolby Atmos allows us to present stories with an incredible audio experience that brings movies to life. Atmos is the technology of future," said Kiran Reddy, CEO, SPI Cinemas.
By the end of 2013, Reddy plans to convert all his screens to Atmos, and the installation may cost Rs 25-35 lakhs per screen, and it may go up to Rs 80 lakhs for the big screen.
"Dolby and SPI Cinemas share a common vision of constant innovation to improve the cinematic experience. We are proud of what we've been able to achieve with Dolby Atmos. Dolby Atmos is a major shift from traditional channel based surround sound. It provides a natural and lifelike audio experience in the theatre,"said Pankaj Kedia, Country Manager, Dolby Laboratories, India.
Introduced in April 2012, Dolby Atmos has been embraced by major studios, award-winning directors and sound teams, and leading exhibitors worldwide. More than 40 films around the world have been released or are scheduled to be released with Dolby Atmos sound since the first film was released in June 2012.

Some of the major films with Dolby Atmos sound were Life of Pi, Man of Steel, Wolverine, Peter Jackson, etc. Sivaji 3D was the first Indian movie to release with the technology in India.
All over the world, over 200 screens have been equipped with Dolby Atmos, and the company plans to have 1000 Dolby Atmos screens by the end of 2013.