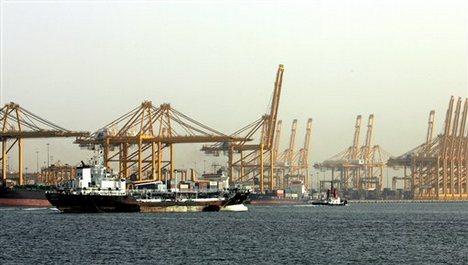 India's strategy to beat Colombo port is flawed as there are likely to be too many domestic ports competing among themselves instead of targeting the competition, says Michael Pinto.
The government hasn't established a major port since Ennore was inaugurated about 15 years ago but, thanks to their benign encouragement, new ports continue to multiply.
Gangavaram, Kattupalli and Krishnapatnam came up in quick succession and now the talk is of Wadhwan in Maharashtra, Vizhinjam in Kerala and Colachel in Tamil Nadu.
Through reasoned argument, experts have shown the futility of setting up a port at Colachel, barely 35 km away from the upcoming port at Vizhinjam, but so far there is little indication that the government will heed their advice.
It is not clear whether this comes from a mistaken belief that more ports mean more cargo and, therefore, higher gross domestic product growth or whether Tamil Nadu wants to show that its coast is just as attractive for new ports as that of Kerala.
So major ports at Ennore, Chennai and Tuticorin (all in Tamil Nadu) have been asked to float a special purpose vehicle that will finance the establishment of yet another port at Colachel.
The government's reaction to the plea, that so many ports in such close proximity will only lead to sickness in the industry, has been to counter by referring to groups of ports at close range in other clusters.
The most frequently quoted example is that of Malaysia that established the Port of Tanjung Pelepas, exactly opposite the well-established port of Singapore even though Port Klang, another of Malaysia's container behemoths, was already in existence at a relatively short distance.
This argument is deeply flawed.
Malaysia established PTP to compete directly with Singapore since Port Klang had demonstrated quite clearly that it could not fulfil this role.
Malaysia felt, quite rightly, that if it were to attract transhipment container cargo away from Singapore to its own country it could only be through a port that enjoyed the same locational advantages as Singapore.
So right across the sea from Singapore, almost equidistant from international sea route, the new port of PTP was born.
The case of Vizhinjam, Colachel and Cochin is entirely different.
A container terminal was established in Vallarpadam at CochinPort more than four years ago to act as a magnet attracting transhipment cargo from Colombo. Although volumes at Vallarpadam have grown of late, it is abundantly clear that it poses no threat at all to Colombo, which is the hub port of choice in the area, transhipping more than 65 per cent of India's export-import cargo.
There are several reasons why Vallarpadam has not taken off as expected but, perhaps the most important one is Colombo's single-minded commitment to handling trans-shipment cargo.
Barely 25 per cent of the containers they handle originate in or are destined for Sri Lanka. The rest are from outside, mostly from India.
To increase its attractiveness as a transhipment hub, Colombo has sacrificed its own income by slashing port charges that lines must pay. They have also spent huge sums to beef up handling infrastructure to make it comparable with the best in the world.
Vizhinjam, it is hoped, will do what Vallarpadam failed to do -- provide greater competition to Colombo in the transhipment space. Both its location and its draught eminently equip it to do this.
But Vizhinjam cannot rely on location and draught alone. To pose a real challenge will not be an easy task and will require immense marketing efforts as well as the establishment of state of the art handling facilities and infrastructure at truly competitive rates.
Vizhinjam will first have to win back Indian exim cargo now being transhipped in Colombo.
To challenge Colombo's pre-eminence in this field is difficult enough when it is a straight fight between two ports for transhipment cargo. But if Colachel comes up, it will compete with Vizhinjam for the same market.
The last thing that a new port seeking to break into the big league of transhipment ports needs is another domestic port breathing down its neck and looking to attract the same cargo.
Instead of concentrating on attracting transhipment cargo from Colombo, Vizhinjam will constantly be looking over its shoulder to see what Colachel is doing and how that will affect its own prospects -- hardly the best way of mounting a serious challenge to a well-established player in a field where the barriers to entry are known to be high.
It is in the country's interest to ensure that competition is confined to a foreign port that now caters to the bulk of Indian exim cargo and does not extend to another Indian entity.
Viewed in this light, there is simply no comparison between the Malaysian experience and the Indian proposal.
Unlike in India, the two ports of Malaysia don't compete with each other. There is no question of PTP eating into the cargo of Port Klang. Their sole rival is Singapore and the massive volume of transhipment cargo that it handles.
Malaysia eyed that cargo and established PTP to be a magnet for getting it to Malaysian shores. For the first 2-3 years of their existence containers handled by them were numbered in thousands.
All that has now changed and last year PTP handled more than nine million twenty-foot equivalent units (TEUs), almost all of which otherwise would have gone to Singapore.
The lessons to be learnt and the priorities to be laid down are very clear.
Getting our trans-shipment cargo back to our shores from Colombo is a task that is difficult enough without complicating it further by making two Indian ports fight for the same cargo instead of concentrating, as the Malaysians did, on identifying one port for this purpose.
By spending a huge amount of public money on establishing a domestic rival poised to do exactly the same thing as Vizhinjam, we will only be hobbling our chosen instrument.
The writer is former secretary, ministry of shipping, Government of India.