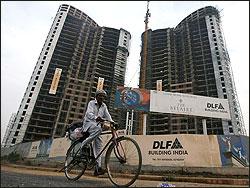 Shares of DLF on Thursday plunged nearly 9 per cent after the Punjab and Haryana High Court set aside the state government's decision to allot 350 acres of land in Gurgaon to the realty major in 2010.
The stock of DLF tanked 8.76 per cent to Rs 167 on the BSE. On the NSE, it slumped 8.69 per cent to Rs 167. The stock was the biggest loser among the 50-Nifty scrips.
The Punjab and Haryana High court on Wednesday set aside Haryana government's decision to allot 350 acres of land at Wazirabad in Gurgaon to real estate developer DLF in 2010.
A division bench of the court on Wednesday directed Haryana the government to conduct an auction of the land in question by inviting international bids within a month.
However, DLF would be able to participate in the auction process.
The decision came on a bunch of petitions filed by farmers challenging the acquisition and transfer of the land to DLF, citing that it was a village common land, their counsel Inderpal Goyat had said.
DLF had proposed to come up with golf villas at the site. The court had in 2012 restrained DLF developers from carrying out any construction and also from creating any third party rights.