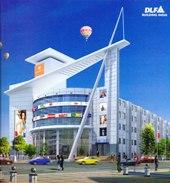 Realty major DLF on Friday announced sale of its 11.2 MW wind turbines in Karnataka for nearly Rs 30 crore as part of the company's strategy to exit from non-core businesses.
The country's largest realty firm has entered into an agreement with Delhi-based private firm Goyal MG Gases to sell Karnataka wind mills and the deal is expected to get completed by end of this year, DLF said in a filing to the BSE.
The development comes close on the heels of DLF's closing the Rs 325-crore (Rs 3.25-billion) deal to sell 150 MW wind turbine project in Gujarat.
DLF entered into "definitive business transfer agreement with Goyal MG Gases for transferring of an unit comprising of 11.2 MW capacity wind turbines situated at Gadag, Karnataka on as is where is basis by way of slump-sale for a lump sum consideration of Rs 29.52 crore subject to adjustment for net working capital".
DLF said the entire project including related assets and liabilities along with relevant long term loans would be vested to Goyal MG Gases Pvt Ltd after fulfilling the terms and conditions by both the parties.
Goyal MG Gases Pvt Ltd is manufacturer and supplier of industrial gases and the company has a large number of Wind mills that are generating and exporting wind power to state electricity grids.
"The transaction is expected to be consummated by December 31, 2013, subject to regulatory approvals. The transaction is in line with the DLF's objective of divesting its non core assets," the filing said.
DLF had wind turbine projects in Gujarat, Rajasthan, Karnataka and Tamil Nadu with a total capacity of 227 MW.
Earlier this week, the company announced the completion of Rs 325 crore deal to sell 150 MW wind mills in Gujarat to private firm Bharat Light and Power. The deal was announced in January 2013.
In April this year, DLF had announced sale of wind turbine projects in Rajasthan and Tamil Nadu in April for about Rs 241 crore to two separate entities. But these two deals have not been closed yet.
DLF has been selling its non-core assets to cut its debt and focus on core property business. Its net debt stood at Rs 21,731 crore at the end of last fiscal.
With the help of proceeds from Institutional Placement Programme (IPP) and sale of wind energy business and luxury hospitality chain Amanresorts, the company plans to reduce the debt to Rs 17,000 crore by the end of current fiscal. PTI MJH