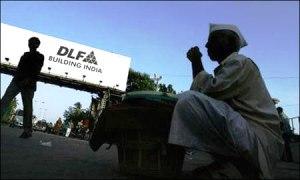 Realty major DLF on Thursday raised Rs 750 crore (Rs 7.5 billion) through issue of bonds and funds would be utilised for development of its housing and commercial projects.

According to sources, DLF raised the funds through issue of bonds with maturity period of five years with coupon rate of 12.5 per cent.

When contacted, a DLF spokesperson declined to comment.

DLF, the country's largest realty firm, had a net debt of Rs 21,350 crore (Rs 213.5 billion) at the end of 2012 calendar year.

The company has been selling its non-core businesses since last couple of years to focus on core business and cut huge debt.

It is targeting to pare net debt by half over the next three years to Rs 10,000-11,000 crore (Rs 100-110 billion) with the help of fresh issue of equity shares, sale of non-core assets and improved cash flows.

Last month, DLF's shareholders approved the sale of fresh equity shares to meet market regulator Sebi's norms of 25 per cent minimum public shareholding in a listed firm.

Sources had said that the company is likely to offer over 8 crore (80 million) fresh equity shares, worth about Rs 2,000 crore (Rs 20 billion), to the institutional investors for dilution of promoters stake to below 75 per cent from the current 78.58 per cent.

The share price today rose by 0.44 per cent to close at Rs 239.10 on BSE.

On the front of sale of non-core businesses, DLF has been able to divest its three major assets- land parcel in Mumbai, hospitality chain Amanresorts and wind energy.

Last month, it had sold wind turbine projects in Tamil Nadu and Rajasthan for Rs 241 crore (Rs 2.41 billion) to two separate entities.

Before that, the company had sold 150MW wind mill in Gujarat to Bharat Light and Power for Rs 282.30 crore (Rs 2.82 billion) in January 2012.

Now, the company is left with only Karnataka's wind mill with 11MW capacity.

In August last year, DLF sold a 17-acre land in Mumbai to Lodha Developers for Rs 2,727 crore (Rs 27.27 billion), while in December 2012, it announced sale of Amanresorts back to founder Adrian Zecha for about Rs 1,650 crore (Rs 16.5 billion).
Photograph: Arko Datta/Reuters