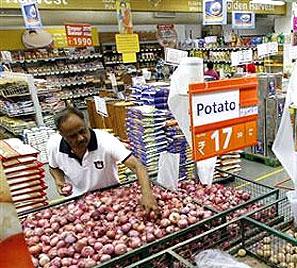 The Narendra Modi-led National Democratic Alliance government has taken advantage of a sharp correction in commodity prices globally to push reforms at home.

The decision to deregulate diesel prices is seen as the first step in that direction.

Thanks to the steady monthly rise in diesel prices, under-recoveries from diesel had ended by mid-September.

By deregulating diesel prices after crude oil had fallen 25 per cent in three months, the government also ended up cutting prices of diesel by Rs 3.37 a litre on Saturday.

Diesel has a 4.67 per cent weight on the wholesale price index.

According to Sonal Varma of Nomura, the direct impact of lower diesel prices would be significant on WPI (30 basis points) but negligible on the consumer price index inflation.

However, higher gas prices would impact the CPI as compressed natural gas costs will swell 12 per cent (public transport has a weight of 1.9 per cent on the CPI).

Not only is inflation likely to be positively impacted by the deregulation of diesel prices, but this move also helps remove 'hidden inflation' and the uncertainty around inflation forecasting.

Rate strategists expect the 10-year government bonds to drop 100 basis points over the next 12-18 months.

Currently, the 10-year bond is trading at its lowest yield over the past 12
months and economists believe the yields on government securities might prevent the Reserve Bank of India from delaying interest cut rates.
Analysts claim the fuel price reforms would be a game-changer for India and would go a long way in making government finances bullet-proof.
Diesel is important because it accounts for 50 per cent of total underrecoveries and economists believe the biggest beneficiary of diesel price deregulation will be the government's finances.
Lower subsidies would immediately improve the fiscal deficit and a fall in the oil import bill would improve the current account deficit.
Kotak Institutional Equities says: "In FY14, under-recovery on diesel was Rs 63,000 crore (Rs 630 billion) and is estimated to be Rs 11,500 crore (Rs 115 billion) in FY15.
"Along with some reduction in plan expenditure to offset the shortfall in tax revenue collections, lower fuel subsidy will likely restrict gross fiscal deficit to 4.2 per cent of GDP in FY15."
And, lower crude prices would keep the current account deficit within manageable levels.
If crude prices are assumed to average at $102.5 a barrel, Kotak expects CAD to be 1.4 per cent of GDP in FY15 and a balance of payments surplus of $32 billion.
While fuel reforms are unlikely to have a significant impact on growth in the near term, it will have a positive impact sentimentally as it will strengthen the government's finances.