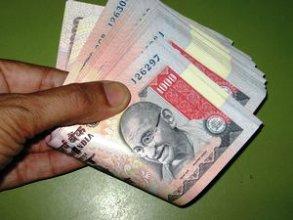 The falling rupee has taken the sheen off the glittering diamond industry.

While gem and jewellery exports have slowed in recent months, the escalating dollar value has put diamantaires in a problem on payments against import of rough diamonds.

From around Rs 52-53 a dollar in April-May, the currency has fallen to Rs 64-65 a dollar now.

"Most diamond players had booked rough diamond imports at the exchange rate of Rs 50-52 earlier this year.

"Traders can't bear such a huge difference in payments," said Pravin Nanavati, a former president of the Surat Diamond Association.

In Surat alone, by an industry estimate, a potential default in payment of Rs 700-900 crore (Rs 7-8 billion) looms.

Further, exports are not picking up due to the weak economic situation abroad.

This has also pushed back realisation from the sales abroad of polished diamonds and jewellery.

According to insiders, several diamond trading houses from Surat
have failed to make payments to rough diamond merchants in Antwerp.
"Diamond units prefer keeping their inventory ready ahead of the festive season. Therefore, they go for early purchases of rough diamonds.
"Nobody knew the rupee value will fall so significantly in such a short span.
"At the current exchange rate, it is almost 10-15 per cent higher cost that we have to bear for our booking made in April," said a unit owner in Surat.
Trader sources say not much of the bank exposure is involved in this, as most of the funding is through credits from local finance.
"Merely 10 per cent is bank loans. Therefore there is less bank exposure but a default will hamper the entire chain, leading to a cascading effect," said Nanavati.
Rough diamond prices had increased in the first half of the year, while polished diamond prices have not done so.
This makes it difficult for diamond processors to pass on the increase in cost due to rupee depreciation.
The industry has high hopes from the coming festival season, including Diwali and Christmas, when sales might pick up.