Diageo Plc will launch its over Rs 5,441 crore (Rs 54.41 billion) open offer in January next year to acquire 26 per cent stake in Vijay Mallya-led United Spirits.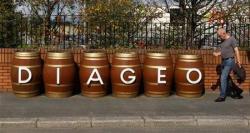 United Spirits had earlier signed a deal to sell the majority stake to the UK-based Diageo.

In a filing to the BSE, United Spirits Ltd (USL) on Tuesday said the open offer will commence on January 7, 2013, and will close on January 18, 2013.

USL said Diageo will "acquire up to 37,785,214 (about 37.78 million) equity shares of face value of Rs 10 each at an offer price of Rs 1,440 per share, aggregating to Rs 54,410,708,160 (Rs 54.41 billion)".

Shares of USL today closed at Rs 1,762.20 on the BSE, up 0.54 per cent over the previous close.

On November 9, Diageo had announced a deal to buy a 53.4 per cent stake in USL for Rs 11,166.5 crore (Rs 111.66 billion) in a multi-structured
deal.
Once the stake acquisition is completed, India will become the second largest market for Diageo after the US.
At present, USL has a debt of about Rs 8,300 crore (Rs 83 billion). The money from stake sale will primarily be used to reduce debt.
For the year ended 2011, Diageo's revenues stood at 13.3 billion pounds and its net income stood at 2.01 billion pounds. The company, which is the world's largest spirits maker, sells various popular brands including Smirnoff Vodka and Johnnie Walker whiskey.
On the other hand, Bangalore headquartered USL's revenues stood at Rs 7,659.89 crore (Rs 76.59 billion) for the fiscal ended March 31, 2012. The company posted a net profit of Rs 342.79 crore (Rs 3.42 billion) during the fiscal.
USL is India's top spirits maker and markets various liquor brands including Signature, Bagpiper, Antiquity, Royal Challenge, Signature in the country.