Dharavi, a congested slum located in the heart of India's financial capital Mumbai, said to be the largest slum in Asia, is actually not, a report by the United Nations Development Programme claims.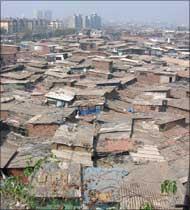 "Dharavi is not Asia's largest slum, but Karachi's Orangi Township has surpassed it," the Human Development Report for Mumbai, compiled with the help of UNDP and released by the Brihanmumbai Municipal Corporation, said.
Mexico City's Neza-Chalco-Itza barrio has four times as many people as Dharavi, the report said.
Dharavi, spread across 175 hectares and housing nearly 57,000 families, grabbed global attention after Danny Boyle's film, 'Slumdog Millionaire.'
The slum, often associated with crime, filth and environmental degradation mainly due to congestion, poor constructions, unauthorised trades and overpopulation, covers parts of suburban Sion, Bandra, Kurla and Kalina.
Many premises in the area are being used as workplaces adding to the risks, including fire and health, it said.
"Chemicals, including acid, are known to flow through its open drains because of tanning activity that flourishes there," it added.
Small businesses, from pots and pans to purses and papad making, are being undertaken in the slum where the major population is of migrants, who land in the city seeking a livelihood for themselves.
"Outbreaks of malaria, leptospirosis, diarrhoea, dengue and hepatitis are just some of the diseases attributed to poor water and sanitation facilities in Dharavi," the report said.
A Rs 9,260 crore (Rs 92.6 billion) Dharavi Redevelopment Project, drawn up by US-trained architect Mukesh Mehta, was approved in 2004, but is still awaiting implementation.
The plan is a part of Maharashtra government's effort to transform Mumbai into an International Finance Centre and has attracted attention from both Indian and foreign developers.
As per the plan, there will be a residential area with schools, hospitals and other amenities, four commercial zones including a gems and jewellery district and a leather district.
There is also a proposal to rehabilitate families in 225 square feet multi-storeyed tenements.
A part of several Bollywood films based on Mumbai underworld, including Mira Nair's 'Salaam Bombay', Anurag Kashyap's 'Black Friday', Ram Gopal Varma's 'Sarkar' series and the latest, Vishal Bhardwaj's 'Kaminey', have been shot in the Dharavi.