Significant portion of the funds used to fuel urban demand have become illegal and inoperative.
Aditi Phadnis and Indivjal Dhasmana report: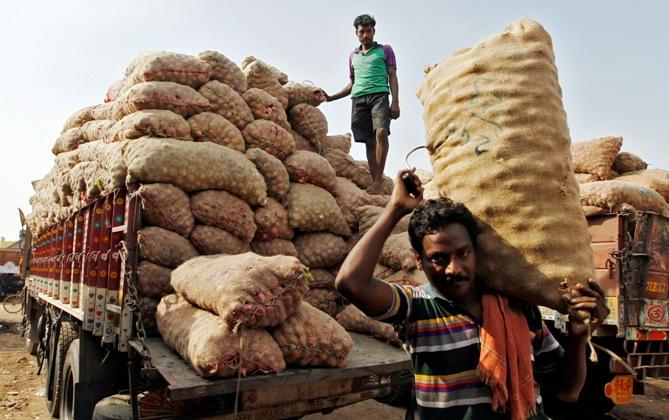 The demonetisation move is bold because it will almost certainly lead to growth deceleration in the short term, say economists.
They highlight the fact that the Narendra Modi government has shown a new facet: It is ready to take a political risk.
They also say that political funding and election expenditure, as both a source and an outcome of black money, could have been controlled more effectively, if demonetisation had been delayed by a few weeks.
Black money fuels urban consumption and demand, especially in non-essential areas such as interior decoration and design, eating out, and other luxuries.
Urban demand has been larger than rural demand.
With a significant portion of the funds that used to fuel this demand having become illegal and inoperative, money flow to these activities could ebb.
Economic growth in the third quarter, says Devendra Pant, chief economist at India Ratings, could be affected, especially in rural areas.
November and December could see a slowdown in growth.
Low growth in real estate could have a cascading effect on the steel and cement sectors.
Construction has the highest employment elasticity. The real estate sector is already in bad shape.
Some of the pain could be mitigated by the positive effect of the black money coming into the mainstream economy. Pant is not sure to what extent can demonetisation hurt growth.
Madan Sabnavis, chief economist at CARE Ratings, agrees, but sees a greater danger to rural demand. He says the move will slow down activity in rural areas in November and December.
Cash plays a major role in agriculture deals. So, third-quarter growth could come down. But because of a favourable monsoon, the net effect would be positive in rural areas. But, he is unable to quantify the effect on the real estate sector.
Aditi Nayar of ICRA concurs. She says legal transactions in the unorganised sector may get temporarily disrupted, particularly in rural areas.
While the gross value added growth in the third quarter of FY17 was expected to be robust at 7.8% on the back of improved rural and urban consumption during the festive season, the intermittent disruption to activity in some sectors might result in economic growth being modestly lower than expected.
Economists at ICICI Securities are clear that sectors such as mining, trade and real estate will be hurt. This could affect the bottom line of companies and eventually corporate incomes and profits.
CRISIL Research makes the same point because no one has any idea of the size of the cash economy, the effect of demonetisation on those invested in this sector can only be guessed.
'Millions of small enterprises in the unorganised sector that use cash to transact will be inconvenienced for a while. Cash-dependent, consumption-led sectors will also feel the pinch, while investment demand will be tempered in the short term,' a CRISIL note says.
Edelweiss, a financial consultancy, has a different twist on the issue.
It argues that demonetisation will force those businesses which were hitherto operating in the shadows to come out into the reporting domain.
Some of the sectors which were endemic generators of cash were supporting unorganised players engaged in sectors such as building material, piping and plastic, chemicals, dairy products, jewellery, hospitals and diagnostics, auto ancillaries and forging, non-banking financial companies, apparels, footwear, etc.
This will, in turn, show up for the first time in gross domestic product numbers.
With elections due in five states, money was being readied to prepare for the payoffs -- not only to political leaders in return for nominations but also to ordinary voters.
The first tranche of payments meant for securing nominations, has already been paid. With demonetisation, that will now just be worthless paper.
The second tranche of election spending will happen now, in the second phase when the election process actually kicks off. That phase will be serviced by the new Rs 500 and Rs 2,000 notes.
So, if the demonetisation had been delayed just a little, it would have enveloped that phase as well.
IMAGE: Labourers unload sacks filled with onions at a wholesale vegetable market in Chennai. Photograph: Babu/Reuters