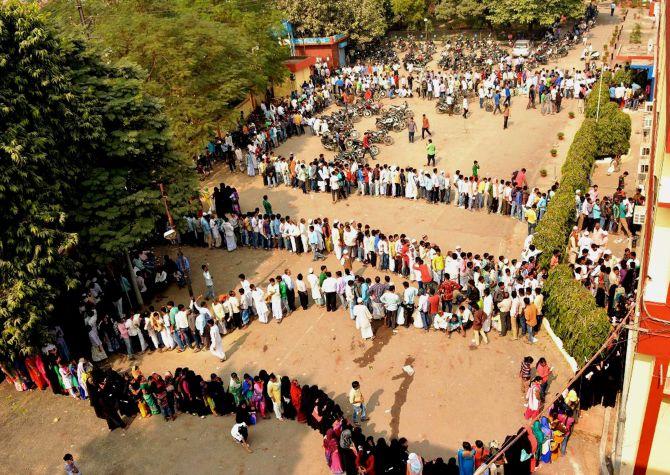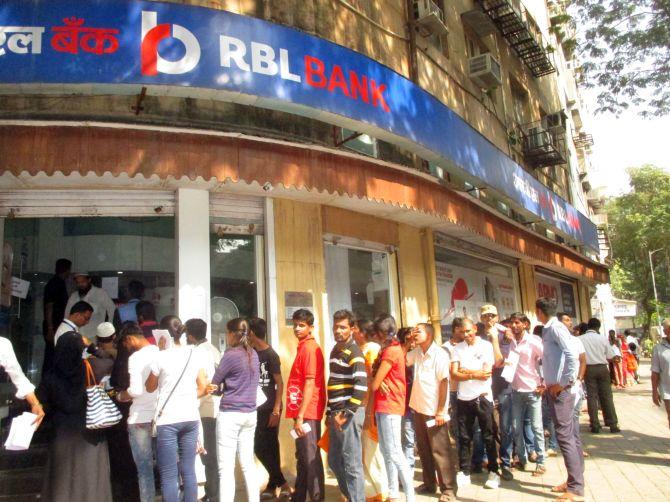 MUMBAI: People queue-up outside a bank to change old Rs 500/1,000 notes on Sunday morning. Photograph: Sahil Salvi.
There was no let up in the rush for exchanging demonetised notes and withdrawing money with many people spending their Sunday queueing up outside banks and ATMs since early morning hours, even as some of the outlets were shut after being short on cash.
Impatience, disappointment and anger prevailed as people continued to face hardship in exchanging demonetised currency notes and withdrawing money on a Sunday and struggled to procure essentials to meet daily needs.
People in large numbers queued up outside Banks and ATMs to get cash. Heated arguments were exchanged as cash in the ATMs and banks- and patience among public- ran dry as the day drew to an end.
Delhiites started forming serpentine queues as early as 6 am outside ATMs and banks to try to get cash. Security has been beefed up outside bank branches as people struggling to buy daily items lined up to get Rs 100 currency notes.
On Saturday, there were rumous of stampede, of people plundering goods from a mall in Seelampur, following which police asked citizens not to spread such rumours and warned of strict action.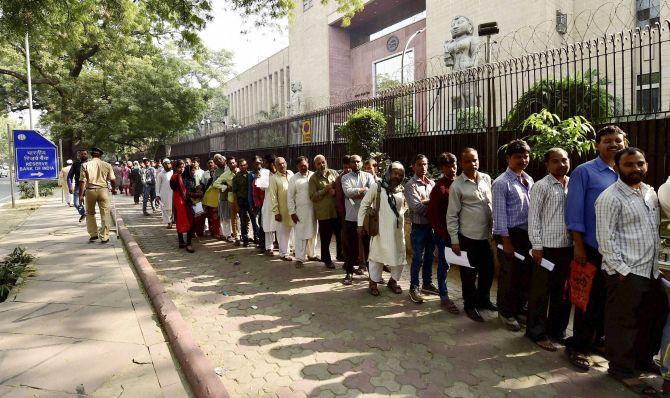 NEW DELHI: People wait in a long queue notes outside Reserve Bank of India on Sunday. Photograph: Kamal Singh/PTI Photo

"Since it's a Sunday, we are expecting more crowd outside banks and ATMs. We have made adequate security arrangements to ensure no untoward incident occurs," said a senior police official.
To manage anxious crowds, as many as 3,400 personnel of paramilitary and Delhi Police along with 200 quick reaction teams have been deployed at ATMs and banks to keep the situation under control.
"I didn't get a chance to exchange the banned Rs 500 and Rs 1,000 notes as I was working. But today is my off day and so I rushed to the bank only to find a huge crowd of people waiting for their turn to come. The crowd is swelling by the hour," said Mohit Jha, a resident of Vikaspuri.
ALLAHABAD: Women queue-up outside a bank to exchange their old notes. Photograph: PTI Photo

A 71-year-old Roopak Das said he had a harrowing time on Staurday running from one ATM to another to withdraw money.
"I visited a number of ATMs to withdraw money yesterday but none of them were operational. I'm old and there is nobody at my home who can withdraw money on my behalf. I'm finding this extremely difficult. Today I woke up early and reached the ATM but then were was a long queue. I just hope that I am able to withdraw money today," Das said.
Another elderly resident expressed his frustration saying he was completely out of cash and had to borrow money from his neighbour.
"Even today there is no respite. I went to the bank and stood in the queue for sometime but then my legs began to hurt and came back. Arrangements should be put in place for the elderly and disabled people," 68-year-old Manoj Singh said.
Many people couldn't purchase milk, vegetables, medicines as they didn't have adequate Rs 100 notes.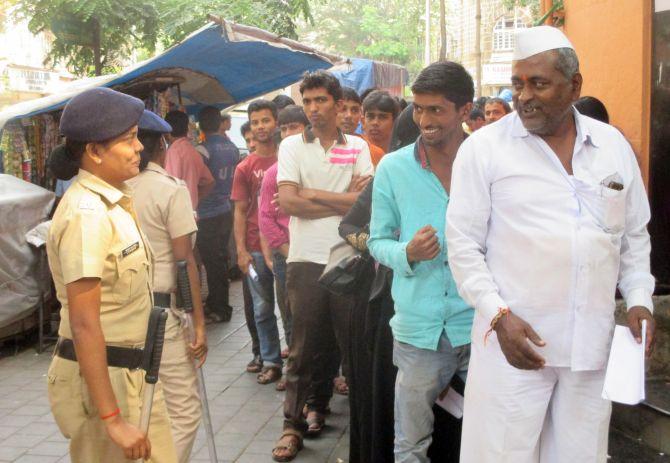 MUMBAI: Security forces were deployed to manage anxious crowds outside banks and ATMs. Photograph: Sahil Salvi.
In Mumbai, long, snaking queues continued to be seen outside banks and ATMs with those facing cash paucity complained of having to wait for hours as the bank branches themselves were running short of currency notes.
Longer queues were seen outside the public sector banks where a sizeable number of account holders are retired persons and senior citizens.
There was increased anxiety among some customers as the bank staff took longer time to process their cash request.
"Earlier, I had decided to wait a bit longer and then approach an ATM to withdraw money for my weekly needs. I witnessed that there has been some crunch of Rs 100 denomination notes in the market," said Vinayak Bhargav, who runs an electrical service centre in Mulund.
"Union Finance Minister has also admitted that ATMs would take longer time for calibration. In such a situation, even I am forced to visit bank and wait in a queue," he said.
Those having current accounts with banks are also hit hard, he said.
"Current account holders are the ones who provide some services, run shops and restaurants -- where daily large cash is generated and it is deposited in their accounts. Such account holders are given special treatment by bank officials as well. However, in the post demonetisation days, the cash generation is reduced but daily deposition is also getting time-consuming because of long queues," Bhargav said.
RAJOURI: People queue-up outside the State Bank of India. Photograph: PTI Photo
Some people with accounts in cooperative banks complained that they took longer time to get their money exchanged from such banks because of the cash crunch.
Vaidehi Madiwale, a resident of suburban Borivali, said, "The cooperative bank manager came out today morning and told the people in the queue that the bank has run out of currency notes of Rs 100 and the supply of new notes from public sector banks is not sufficient to cater to the needs of the customers."
"If the manager's claim is true, then some senior government officer should intervene and ensure that cooperative banks get enough cash supply," she said.
Meanwhile, workers from various political parties came out to help the people standing in queues outside banks and ATMs in the megacity, by offering them drinking water and refreshments like tea.
The workers of Bharatiya Janata Party, Shiv Sena, Maharashtra Navnirman Sena and Congress visited some bank branches and offered refreshments.
"Almost everybody is affected by the decision of demonetisation and we realised that people above (the age of) 50 are worried more. The offering of water or tea is an attempt to bring some relief. It also gives a psychological support to the people who are anxious and unnecessarily worried," a Shiv Sena worker said.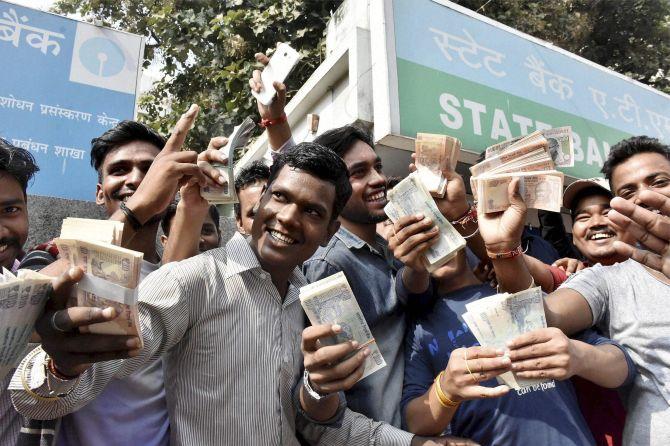 PATNA: People show money withdrawn from an ATM. Photograph: PTI Photo
In Kolkata too, long queues in front of bank branches and ATMs greeted people.
With all bank branches open today as per the RBI directive to deal with the unprecedented situation, people formed serpentine queues in front of banks from as early as 6 am to withdraw money.
Some were lucky to have been able to withdraw money from a few operating ATMs, but given the huge demand for cash it proved to be just drops of water in an ocean.
There was also the unusual sight of large retail markets like Lake Market, Gariahat and Maniktala in the south and northern parts of the metropolis witnessing little footfall compared to the usual sight of heavy crowd on weekends.
"Generally, I sell more than Rs 1 lakh worth of fish on a Sunday morning, but today I could manage to sell fish worth a few thousand Rupees," Apu Naskar, a fish seller at Lake Market, said.
A few shopkeepers some markets are still accepting old Rs 500 and Rs 1,000 notes in view of the situation and to sell their fast perishable goods, but on condition that the transaction would be worth at least Rs 500 or in multiples.
RAJASTHAN: Women queue up outside a bank to exchange their old notes in Beawar. Photograph: PTI Photo.
But the most harrassed of all remained those with medical emergencies as most medicine shops and many private hospitals refused to accept old currencies of Rs 500 and Rs 1000 denomination.
Exuberance of many people who could manage to withdraw money from bank branches found their joy to be short-lived as they could not get change for Rs 2000 notes at grocery shops or buying other materials of small price.
The scene was repeated across the state as people had little or no money with them or had Rs 2,000 notes which proved to be useless for want of change in the hands of the shopkeepers.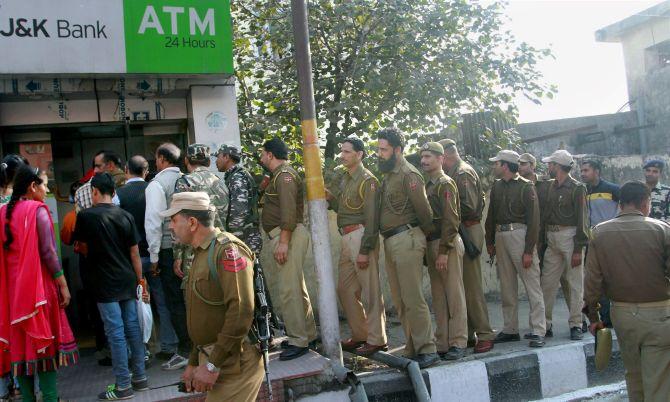 JAMMU: Jammu & Kashmir police personnel stand with other people in a queue outside an ATM in Jammu. Photograph: PTI Photo.
Payments could not be made for different needs of people ranging from buying things of daily needs to plumbing or small electrical works at households.
"I urgently need to do some plumbing work at my house and clean the water tank but I have only Rs 500 and Rs 1000 notes at home which are not legal tender now," said Manish Chatterjee, a resident of Barasat in the northern suburbs of the city.
Only those who were lucky to get Rs 100 notes from some branches could manage to continue with their daily chores, but only after spending hours at bank branches.
While there were reports of chaos and commotion at some banks, some branches were thoughtful enough to offer seats to senior citizens and water to those waiting in queues for hours.
"Though I had to wait over three hours to withdraw money, I was offered a seat and drinking water inside the branch," said P K Roy, a 75-year old customer at Kasba branch of State Bank of India.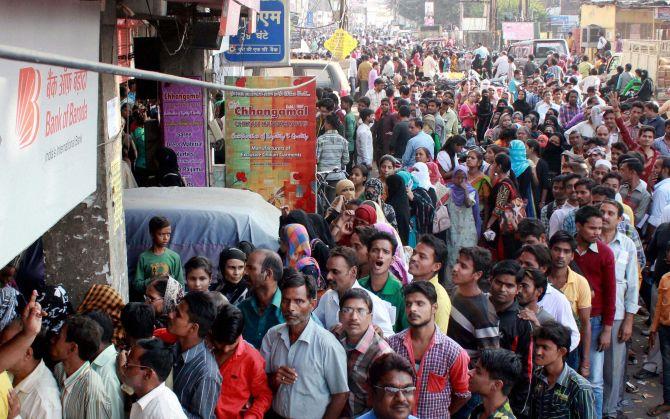 LUCKNOW: People queue up outside a bank. Photograph: Nand Kumar/PTI Photo.
Meanwhile, in a tragic incident, an auto driver in Nizamabad district of Telangana tried to immolate himself as he could not pay the instalment of this month to the auto's financier.
Sheik Basheer has been admitted to Armoor Hospital in a serious condition.
In Chennai, people continued to throng banks and ATMs to exchange or deposit scrapped Rs 500 and Rs 1,000 notes, but many cash vending machines ran dry after a few hours.
People lined up before bank branches since morning and with several more ATMs on Sunday dispensing Rs 100 notes, it came as a big relief to the harried public.
Customers at PSU lenders, including State Bank of India and Bank of Baroda besides private banks, said they were able to withdraw cash from ATMs and that they got the 'crucial Rs 100,' notes.
Coming out from a bank, V P Radhakrishanan, a private sector employee, said, "I got Rs 100 notes ... the number of people waiting has also thinned down compared to morning."
AND THEY ARRIVE : Several banks across the country also issued new Rs 500 notes on Sunday. So far, banks were disbursing only Rs 2,000 and Rs 100 notes in exchange for old notes. Photograph: PTI Photo.
The RBI regional office in Chennai on Rajaji Salai attracted a continuing stream of people with the queue there extending to nearly a kilometre.
People said they preferred to come to the Central Bank's counters as currency of lower denominations including Rs 100 and Rs 20 were being dispensed for the scrapped notes.
Several ATMs continued to be shut, while some ran out of cash shortly and a section of them had fewer people. However, traders and vegetable vendors at the Koyambedu Flower, Fruit and Vegetable Market complained of poor sale due to lack of sufficient change.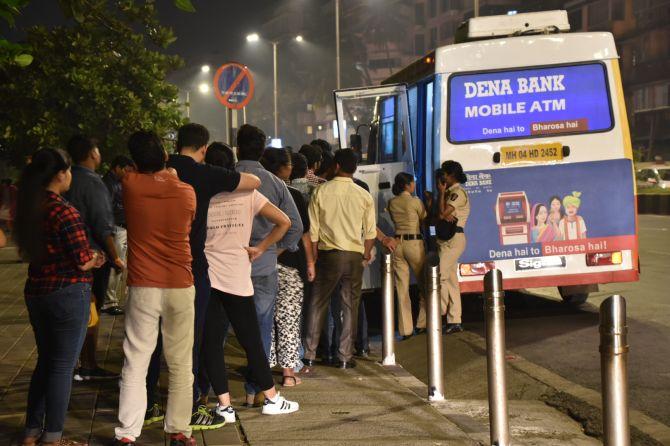 MOBILE ATMs: A Mobile ATM at Marine Drive in Mumbai. Photograph: Sahil Salvi.
Meanwhile, some small traders and fish market vendors said they accepted the old Rs 500 and Rs 1,000 notes from some of their buyers as they had only such scrapped notes.
"Several of my customers had only scrapped Rs 500, Rs 1,000 notes. They said they could not exchange it in view of heavy crowds. If I turn them away I will lose business," a fish vendor, Devanesan Joel said.
He said that he could not 'afford to lose business on a Sunday, wherein more people go in for non-vegetarian stuff'.
Officials said banks in Tamil Nadu were receiving adequate cash inflows to cater to the needs of the people.
In Madhya Pradesh's Sagar district, a 69-year-old retired man died after suffering a heart attack while standing in a queue, police said.
"We got the information that an old man (Vinay Kumar Pandey) suffered a heart attack while he was standing in queue outside a bank to exchange his demonetised notes. He was rushed to a private hospital where he died later during treatment," Police Inspector V S Chauhan said.
Pandey, a retired BSNL employee, collapsed after standing in the queue for 30 minutes outside a bank branch in Makronia, his son Vinod Kumar said.
"My father was rushed to a private hospital where doctors said that he had suffered heart attack. Despite efforts, my father died an hour after being admitted to the hospital," Vinod Kumar said.
He said the doctors told them that his father had suffered heart attack.