The paying capacity of telcos will not be the same over the next two decades. J S Sarma, chairman of the Telecom Regulatory Authority of India, says after the regulator recommended a high reserve price for the auction of 2G spectrum.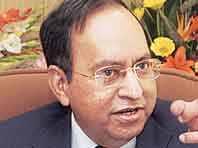 Most operators have criticised the high reserve price being fixed for spectrum auction. Even analysts feel such steep prices might increase mobile rates.

Cost of spectrum in the total cost is very low. There won't be a major problem. It will not impact consumers at all. In the 700 Mhz band, the reserve price is four times the price we have fixed, but for 1800Mhz, it is close to the price of 3G spectrum.

We have liberalised the spectrum, wherein one can use any technology. The notice inviting applications for 3G spectrum in any case indicates that the price discovered in 2010 will be the base price for the next auction, as long as it is done within one year; otherwise it will be adjusted. We have followed the same principle.

What happens to the companies whose licences have been impacted by the Supreme Court order?

The auction is open to all players; even those whose licences have been cancelled can participate. We have recommended that 5MHz in the 1800 band should be auctioned immediately, followed by the 800 MHz band. So, operators will have the option to bid in the auction.

Telecom companies are already reeling under high debt. Would they be able to participate in the auction with such prices?

We are looking at a 20-year scenario. The paying capacity of the companies will not be the same for the next 20 years and debt is not only because of spectrum cost. There are various methods by which companies can increase their revenues. Data services will be the next big thing. We have made the payment mechanism for auction quite easy.
Image: J S Sarma