The month of May has typically been bad for stock markets; no clear cue at present for upward movement.

Will investors in India heed the old Wall Street adage of 'Sell in May and go away' in the days ahead? Many in the market are trying to guess an answer.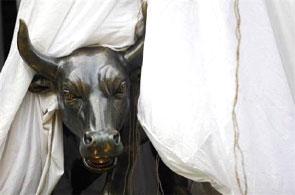 Though the April series rollover to May contracts last week indicated carrying forward of fewer bearish bets, analysts see a higher probability of the market weakening next month.

"After a fairly good run, the market seems overbought. There is no credible trigger. Our take is that May is likely to deliver negative returns this time, too," said Tirthankar Patnaik, director and India strategist at Religare Capital Markets.

Unlike global markets, which have generally conformed to the May maxim, Indian markets have shown a divergent trend, shows a Religare study. And, in the past three years, Indian markets have delivered negative returns in May.

"Given that Indian markets are highly correlated, they could also end up in negative territory if that's the case with global markets," said a head of research with a foreign brokerage, who didn't wish to be identified. "However, unless you are a trader, you would not like to take that call. Indian markets, historically, have done well during the July-September period," he added.

Most investors seem to exit
equities in May, considered the start of a lean period for the markets, and invest again in November, when the period of high returns begins. An analysis shows the Morgan Stanley Capital Index (MSCI world index) has delivered one per cent return during the November-April period since 1988, while it was nil during May-October. However, Indian markets have shown a divergent pattern, as returns during November-April average 1.2 per cent, with 2.1 per cent seen during May-October over 1988-2012.
Also, unlike the world markets, Indian markets have fluctuated between gains and losses in May since 1998.
Fund managers and analysts believe a lot would depend on the outcome of the Reserve Bank of India's rate-setting meeting on 3rd May.
"The market is looking forward to an interest rate cut. But, 25 basis points (of cut) has already been priced in. If crude oil prices could have come down sharply, there was scope for a 50 bps cut. Unfortunately, crude has stopped moving down," said S Naren, chief investment officer at ICICI Prudential AMC. He said corporate earnings from the companies yet to announce results, inflation data and monsoon were the next triggers the market could eye.
If political tensions resurface, the market could turn volatile, said Patnaik. "One can't expect the government to push for any major legislation. Investors are looking for an uptick in growth but that's proving a major hurdle," he added.