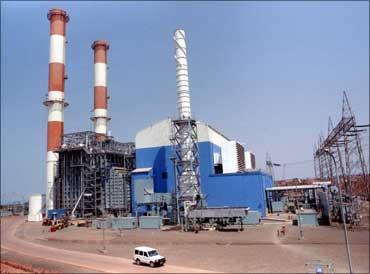 The Dabhol power project in Maharashtra, with a generation capacity of 1,967 Mw, has been closed yet again for want of gas since June 6.

"The project has been closed since June 6, as there was no gas linkage. The company is pursuing the early scheduling of gas with the Centre to restart generation. We are hopeful that some gas linkage will be available soon to produce at least 600 Mw," a spokesman for Ratnagiri Gas & Power Pvt Ltd (RGPPL), which has owned the project since 2005 onwards, told Business Standard.

RGPPL has incurred a loss of Rs 1,156 crore towards fixed cost alone during 2012-13, as there was a total generation loss of 9,053 million units (MUs). Further, the company has incurred a loss of Rs 156 crore towards fixed cost, following the generation loss of 298 MUs during April and May 2013.

The fixed cost component in the rate of supply includes interest on loan, return on equity, depreciation, operation & maintenance expenses, insurance, taxes and interest on working capital. Maharashtra draws 95
per cent of the power generated at Dabhol. The tariff is Rs 4.80 a unit.
RGPPL's generation loss was 3,095 MUs in 2011-12.
The lenders to the Dabhol project have raised concerns over the generation loss due to the closure of the plant for want of adequate gas. Lenders ICICI Bank, IDBI Bank, State Bank of India and Canara Bank, which collectively hold 18 per cent equity in RGPPL, are worried about their total exposure of Rs 10,000 crore in the project.
The project was closed between February 21 and April 2 because of a lack of gas supply. Generation was restored after gas supply was resumed on April 3. The generation since then till June 6 was between 600 Mw and 1,300 Mw. The company was receiving 2.5 million standard cubic metre per day (mmscmd) of gas and 5.5 mmscmd during April 3 and June 6. However, the company could not achieve the generation of 1,967 Mw during this period.
The spokesman said the company needs a total of 8.5 mscmd of gas to achieve 1,967 Mw of generation. Of the 8.5 mmscmd, nearly 7.6 mmscmd is linked to KG D6 gas while 0.9 mmscmd is from Oil & Natural Gas Corporation through GAIL India.