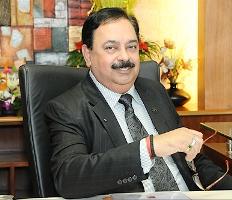 The ever-rising subsidy burden has prevented the Oil And Natural Gas Corporation from taking the full benefit of either the crude oil price or rupee depreciation.

ONGC's chairman and managing director Sudhir Vasudeva tells Business Standard that any price for natural gas that is more than $4.2 a unit is good for the company.

Excerpts:

There is a lot of talk about gas pricing. While the Rangarajan committee has mooted a price of $8-9 a million British thermal units (mBtu), the oil ministry is looking at $6.775 an mBtu. What would be an ideal price for ONGC?

Today, the cost of production of ONGC gas itself is about $3.7 a mBtu and in a few fields we are not even recovering the cost of production.

It is only because of Western Offshore, where a large quantity of gas is being produced, that the average cost of production is down.

We are selling about 50 million cubic metres of gas.

Out of that, nearly 45 mcm is administered price mechanism gas, while 5 mcm is non-APM.

The APM gas share will go down.

With oil production falling, associate gas production will also dip.

In this case, the market should also be ready to pay more price tomorrow for the non-APM gas, which is going to come.

Any price, which is more than $4.2 an mBtu would be good for us.

Even if I am generating some surplus, my margins will improve and will go as my investment for future production.

Why should there be uniform pricing? Why would investments make sense if the production cost is different in various fields?

We have to look into economic viability and national interests related to reserves. We are getting $47-48 for oil.

If ONGC does not produce, the country has to import it at a price of $100-110 a barrel.

We should be given enough incentives that we are able to produce more.

So, if we ask for a price hike in gas, we are well within our right.

Moreover, through royalty, corporate taxes and all, it would add revenue to the government.

The under-recovery burden of ONGC has been on the rise for the past two years. Are you worried about this rising share?

The problem with under-recovery is that the formula keeps on changing. Suddenly, our ratio started increasing and now it is almost 40 per cent of the total under-recovery.

In the past seven years, the government's total under-recovery is to the tune of around Rs 700,000 crore (Rs 7,000 billion).

Out of that, Rs 2,16,000 crore (Rs 2,160 billion)
has been given by us.
The net impact of this on our profit is to the tune of Rs 1,25,000 crore (Rs 1,250 billion).
Had it been available with ONGC, it would have gone into our foreign projects.
The finance ministry has already made a statement to the media that next year, subsidy would be Rs 80,000 crore (Rs 800 billion) and the government has kept its share at only Rs 20,000 crore (Rs 200 billion).
They expect the balance, Rs 60,000 crore (Rs 600 billion), from us.
Even with the subsidy burden coming down by half, they still expect us to pay at the same rate.
This may be unfair.
Today, we are the golden goose.
Now, OMCS are bleeding, tomorrow may be our turn.
You are looking at countries such as Bangladesh and Myanmar. What is your road map as far as ONGC Videsh Ltd is concerned?
We are trying everywhere.
Considering the targets we have for OVL, we cannot say we are focusing on only one area.
In 2012-13, we (OVL) produced only 7.26 mt (million tonnes of oil and equivalent gas); the year before it was 7.8 mt.
But our target is to reach 20 mt by 2018 from overseas operations.
We have to add 10 mt in the next five years.
The next target is to reach 60 mt by 2030.
Are you planning to list ONGC Videsh Ltd?
Why is everybody keen on listing of OVL?
Today, our net worth is Rs 1,65,000 crore (rs 1,650 billion).
I can go to the market and raise a debt of this size without any hitch.
There are many other instruments available for raising money.
Listing of OVL is like selling family silver.
Do you think there should be the first right of refusal for existing players on shale gas?
After seeing the experience of CBM (coal bed methane) -- where coal mining rights are given to different companies by coal ministry and CBM rights to another set of companies by the petroleum ministry -- unless there is the first right of refusal, it may create a lot of confusion.
How can one player operate in conventional and the other on unconventional ways simultaneously?
We are going to bid for shale gas in the upcoming auctions.
Image: ONGC's chairman and managing director Sudhir Vasudeva; Photograph, courtesy: www.ongcvidesh.com