Value addition is one of the chief requirements for coconut to become a commercially lucrative crop. Surinder Sud reports.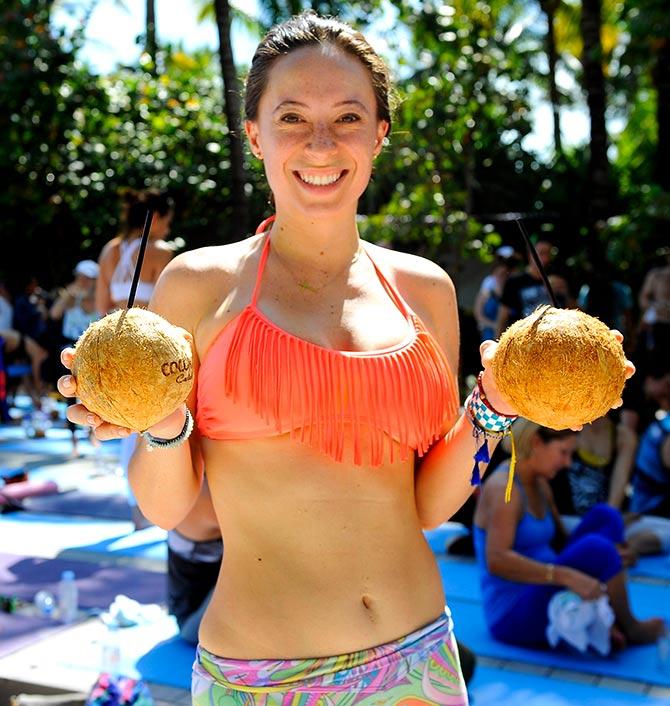 IMAGE: Value addition of coconut through processing is hardly 8 per cent at present. It needs to be stepped up to at least 25 per cent to produce conveniently marketable products to make coconut plantations economically viable. Photograph: Sergi Alexander/Getty Images.
Lack of adequate value addition is among the major factors holding coconut back from becoming a lucrative commercial crop.
Demand for coconut oil has been stagnant worldwide because of competition from relatively cheaper alternatives like palm oil. In India, coconut oil's use as a cooking medium has remained confined to Kerala and Keralites.
Fresh coconut water is in good demand almost all over the country, but meeting this demand requires bulky nuts to be hauled over long distances entailing heavy costs.
Value addition of coconut through processing is hardly 8 per cent at present. It needs to be stepped up to at least 25 per cent to produce conveniently marketable products to make coconut plantations economically viable.
Other major coconut growing countries, notably Indonesia and Malaysia, have also taken this route to support coconut cultivation though the average coconut yields in those countries are relatively far lower -- less than half of India's 11,277 nuts per hectare (2012-13 figure) in most cases.
Fortunately, green shoots are now noticeable in the coconut-based agro-industrial sector.
The technology for commercial-scale production of a large number of products that are likely to command good consumer demand is being generated by the Kasaragod-based Central Plantation Crops Research Institute (CPCRI) and other farm research bodies.
The CPCRI alone has licensed complete technology packages for the production of conventional as well as innovative coconut products to around 160 entrepreneurs in the past two years, according to institute director P Chowdappa. These value-enhanced items include virgin coconut oil (used in cosmetic and pharmaceutical industry), coconut chips, coconut honey, jaggery (gur), sugar, ice cream, chocolates and sweets.
Besides, methods have been perfected to process and package some traditional health and wellness products like coconut water and kalparas (fresh coconut sap). Growing demand for such items is expected to spur more entrepreneurs to set up coconut processing units.
Packaged kalparas is viewed as one of the important value-upgraded coconut products with substantial business potential. A major glitch in expanding the Kalparas market in the past was its highly perishable nature as it started fermenting even during the long process of its extraction from the coconut inflorescence. But new processing and preservation techniques can help overcome this problem and extend its shelf life to around 45 days for easy marketing. With this breakthrough, it seems possible for a farmer tapping as few as 15 coconut palms for kalparas to earn a net profit of around Rs 45,000 a month, say CPCRI scientists.
The Coconut Development Board is also encouraging the processing sector. It has recently sanctioned 38 projects to promote research, processing and marketing of coconut products. Of these, 32 are for diversification and processing of coconuts while some others are aimed at market promotion.
However, price volatility remains a critical issue that needs urgent attention.
No doubt, the emergence of coconut-based agri-businesses would help reduce price fluctuations to some extent, but this alone may not suffice. The need truly is for firm and legally enforceable contracts between growers and end-users for assured marketing of coconuts at pre-agreed prices. This should be made part of ongoing agricultural marketing reforms.
At present, while the production cost is estimated at ₹9 per nut, growers recover hardly half of it by selling the produce through conventional marketing channels.
Experts suggest growing of companion crops in coconut fields to go in for multi-species and multi-storeyed cropping systems to boost net returns. The list of crops that can go well with coconut under these systems is fairly long and includes commercially important crops such as pepper, banana, nutmeg, pineapple, ginger, turmeric and elephant foot yam. CPCRI experts reckon that coconut-based mixed farms can enable farmers to earn an estimated annual income of ₹3.7 lakh per hectare, against about ₹15,000 from single-cropped plantations.
The earnings can be raised further by integrating coconut farming with financially rewarding activities such as dairying, poultry and aquaculture.
Such approaches, along with higher levels of processing and value addition of the produce, can ensure greater prosperity for coconut growers.