The rising Covid-19 caseload has prompted companies to switch from a hybrid work model and return to remote work and essential travel once again.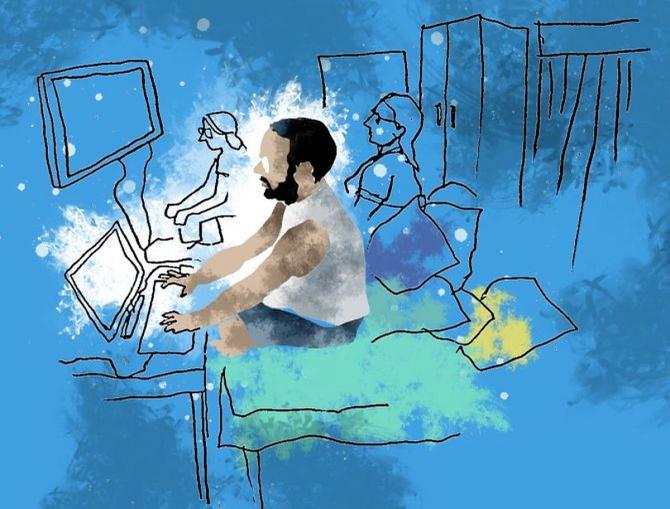 With the dizzying rise in the number of Covid-19 cases in the country, India Inc has transitioned from a wait-and-watch policy to full-on emergency mode, bringing back remote and flexi work, stringent safety protocols, and allowing only essential travel.
Companies — especially in metros like Delhi, Mumbai and Kolkata — that had adopted a hybrid work model during the last few months when the caseload remained low, are either switching back entirely to work-from-home (WFH), or calling skeletal staff to office on select days.
Take the case of cigarettes-to-hotels major, ITC, which had been on a hybrid work model over the last few months.
It has now told employees in the national capital region (NCR), Mumbai and Kolkata to be present in the workplace only if absolutely essential.
In other centres, ITC has restricted employee presence to 30 per cent, with a roster system.
Angshu Mallick, CEO, Adani Wilmar, said the company is now following the government protocol of allowing 50 per cent staff in office.
Stating that they were much better prepared this time, Mallick said, "We have learnt from the previous two waves that the supply chain can get impacted.
"Hence, we have ensured that we keep buffer stocks to avoid any shortage of our products."
Recently, Godrej Housing Finance announced WFH for all teams which can operate remotely.
It had earlier adopted a hybrid work norm, with 50 per cent staff coming to work on alternate days.
Now, even for the frontline sales teams, it has identified roles that can switch to 100 per cent remote working with immediate effect.
Likewise, Chennai-based Shriram Group, which, till last months, had 75 per cent of its employees coming to work, has decided to allow half its employees to operate from home.
"We are taking a state-wise approach.
"In Maharashtra with a higher number of cases, work from home is higher, while it is less in places like Hyderabad," said a company spokesperson.
Others like Mumbai-based companies Reliance Industries, Mahindra Group, Tata Group, Aditya Birla Group and others had very few of their employees coming in to office anyway.
"We had a flexi work policy, allowing employees to work from wherever they want.
"We are continuing with the same," said a Mahindra Group employee.
Tata Motors has advised employees to work from home in select locations.
"We follow a hybrid model of work which requires a limited number of employees to be present in office by rotation," said a company spokesperson.
As before, many companies are once again being proactive about organising vaccinations.
Car maker Maruti Suzuki India, for instance, has set up vaccination camps for employees' children who meet the eligibility criteria.
"We have initiated vaccination camps for employees' children in the age group of 15 to 18 years.
"Booster dose camps for eligible employees are also being organised," said Rajesh Uppal – member executive board (HR, DE, Safety, IT) at the firm.
Some startups like Bangaluru-based OkCredit have responded to the current crisis by deciding to do more for their employees.
"We have bolstered the health insurance allowance for all our employees to Rs 10 lakh per employee," said Vishal Aman Gummadapu, chief of staff at OkCredit.
In light of the surging casesload, two in three citizens prefer a mandatory work from home for all desk jobs, according to a recent survey conducted by LocalCircles.com.
Companies are laying down strict rules when it comes to business travel.
"We issued a travel advisory encouraging officials to have digital meetings and travel only if necessary," said Madhu Srivastava, chief human resource officer (CHRO), Vedanta Group.
Manufacturing companies have joined the effort to control the spread of the virus and have rolled out fresh health protocols like mandatory RT-PCR tests even for those who are double-vaccinated.
Random testing at plants, sanitisation and other measures are also being stepped up once again.
Ravinder Reddy, director at Bharathi Cement, said the company has banned the entry of visitors both at the plants as well as in the office.
But as of now, its staff is working in full strength at the office.
"Next week we will take a call on whether it will be WFH wherever possible," Reddy said.
ArcelorMittal Nippon Steel India has asked its heads of department to encourage WFH, allowing only half the team to attend office at any given time.
The company is also organising booster doses for employees and vaccines for employees' children.
However, pharma companies, which rely heavily on their field sales teams, are yet to announce remote working.
A senior executive of a Mumbai based pharma firm said, "Doctors are not afraid to meet medical representatives this time as many feel that this variant (Omicron) gives a mild infection."
That said, most pharma companies have asked their executives in metros like Mumbai to work from home for now.
Sun Pharma, for example, has asked its employees to work remotely till the end of the month and will continue to review the situation.
Airlines, too, have taken cognisance of the ongoing third wave of the pandemic.
"We have reintroduced the hybrid work model, wherein staff members work from office every alternate week and maintain a 50 per cent staff capacity," said a Vistara spokesperson.
India's largest lender State Bank of India will work with 50 per cent capacity, which means half of its staff will come to office daily at the corporate headquarters till the third wave subsides, an SBI official said.
More steps will be taken based on trends in the surge, the official added.
---
With inputs from Shally Seth Mohile, Deepshekhar Choudhary, Ishita Ayan Dutt, Shine Jacob, Sohini Das, Aneesh Phadnis, Sharleen Dsouza, Aditi Divekar, Vinay Umarji & Abhijit Lele