As the industrial era wanes, the network era looms, notes Ajit Balakrishnan.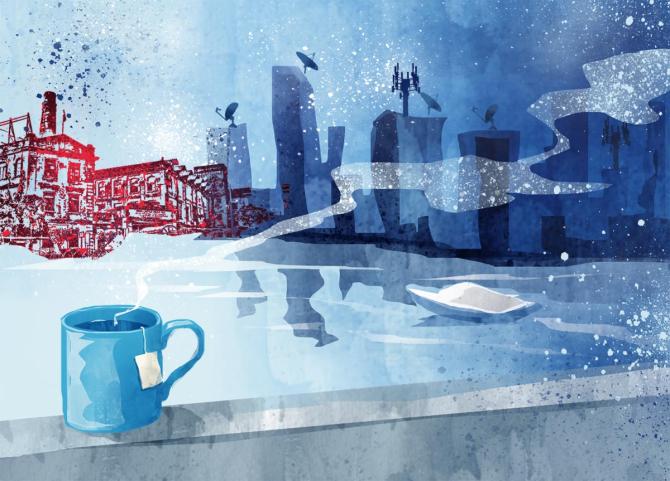 I woke up one day, the eve of the new year, with a nightmare: A vision of Bombay's cluster of high-rise buildings at that centre of India's financial heart, the Bandra Kurla Complex, in an abandoned and decrepit state, resembling what happened in front of my eyes to Parel's booming textile mills in the 1970s. My wakeup and jump from bed were so abrupt that my little dog who sleeps next to me jumped up, whining in alarm.
I pinched myself to awake fully. Was this nightmare a sign of what doctors call an REM (rapid eye movement) disorder, when dreaming is not merely a mental activity but also physical? Was it a sign that I should make a quick visit to my doctor and get it fixed by popping a couple of pills? Or was it an outcome of reading and researching obsessively about the effects of technology on society?
As I got up and switched on our electric kettle, poured the hot water into a cup with an Assam teabag in it, took my cup of tea, sat on my easy chair on my balcony overlooking the Bombay harbour to watch the sun rise, I asked myself whether I was becoming over-obsessed and over-alarmed by the role technology plays in society.
Take one element of my nightmare, for instance, the decline and collapse of 100-odd textile mills in Bombay's Parel area, which happened in the first few years of my working life in Bombay in the 1970s.
I -- then recently graduated from the Indian Institute of Management-Calcutta, my head stuffed with theories of sociology and economics and operations research -- was looking to apply these to the real world I lived in.
I guessed immediately that it was the invention of synthetic fibres like nylon, polyester, and cloth made from these synthetic fibres that was winning over the cotton textiles made by Bombay's textile mills.
But whoever I asked -- be it business journalists, or social activists, or technologists -- had only one answer. Bombay's fabled textile mills were destroyed by the unending strikes led by Datta Samant.
Even 20-odd years later, when I finally managed to meet and chat with Mr Poddar, by then in his late nineties and whose Poddar Mills was the icon of Bombay's textile mills, his answer to me was: Datta Samant!
When I gently prodded him about the role of synthetic fibre invention, he dismissed it out of hand -- in his mind there was only one culprit: Trade union leader Datta Samant, who organised workers to demand impossibly high wages and go on strikes and gheraos.
I guess that's what my nightmare was about. How could highly intelligent and thoughtful people like the mill owners and top executives of the cotton mills of the 1970s have missed the signs of a new technological wave seeping through the society they lived in, missing the possibility of their interventions that could have guided the path and impact of that technological wave in a direction that could have affected them and society positively?
For instance, in the current era we live in, success is defined as 'bigness'. The bigger the size of a business, the more it receives adulation.
On the converse side, small businesses, ones employing a few dozen people, are seen as objects of pity, waiting to be rescued from their smallness. Whole committees of governments and trade associations are devoted to rescuing these 'poor small and medium enterprises' from their smallness.
Where did this obsession with bigness come from?
I guess it's because, economics as a science, which also came of age in the same period as the industrial age, equated bigness with efficiency -- the theory of 'economies of scale', which became a central belief in economics, in policymakers' minds, and gradually universally in even the common man's mind. Yet, it is one theory that is in the process of being debunked.
What matters most then, you may ask. The answer is 'connectedness'. What matters in the network age is whether the 'node' of your activity is 'linked' to other nodes that matter in the space of your activity, whether your activity is a business (like a bank or a consumer goods manufacturer), a social enterprise (like an NGO), or a public institution like a high court.
The thing is nodes and links may not be as innocent as the one I just described. There can be nodes who are securities traders and while most of their links with fellow securities traders may be innocent, there can be links with nodes who are powerful corporate executives who then pass on insider information for trading.
Suddenly, network analysis techniques become crucial for entities like the Securities and Exchange Board of India to spot insider trading.
Viewing the world using the network lens may bring new insights.
For example, seen from the industrial era viewpoint, the spectre of large US and Chinese tech companies in e-commerce, social media, and fintech running up enormous losses in their Indian operations are applauded for their large-heartedness and for the foreign exchange they bring into India, but a network era-based competition law will reveal the true nature of these actions: They are 'subsidising' one side of the network (it could be customers or suppliers) to gain market share and thus guilty of abuse.
Dialogue in this new networked world will revolve around concepts like degree centrality, betweenness centrality, assortativity, network modularity, to name a few.
An urgent updating of many of our governance laws and not just securities and competition Acts may need to be undertaken so that India does not miss this epochal shift to a network economy.
Welcome to 2022 and the new world of networks!
Ajit Balakrishnan (ajitb@rediffmail.com), founder and CEO, Rediff.com, is an Internet entrepreneur and as a member of the committee that updated the Indian IT Act 2008 personally wrote Section 79 which introduced the concept of 'Intermediaries' and governs Internet platforms.