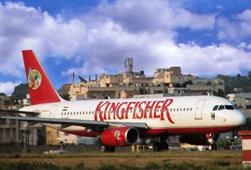 The Supreme Court on Friday declined to stay the Bombay high court order that directed Vijay Mallya-promoted Kingfisher Airlines to co-operate with the fair trade regulator CCI.
A bench headed by Chief Justice S H Kapadia said that they are hearing a petition by the Competition Commission of India regarding its powers to initiate an investigation against a company on the complaints of a rival.
Kingfisher Airlines had moved the Supreme Court against a probe into its two-year-old strategic alliance with Jet Airways.
The CCI began the probe last year to examine if the alliance was a case of cartelisation.
Kingfisher, however, approached the Supreme Court arguing that the alliance was formed before the Competition Act came into force, and therefore, it couldn't be probed under it.
Justice Kapadia said that the court would lay guidelines for such an investigation and it would hear Kingfisher's plea after that.
Meanwhile, additional solicitor general Parag Tripathi appearing for CCI informed the court that Kingfisher was not co-operating in the investigation.
The matter would be heard after four weeks.