Delhi and neighbouring Noida in Uttar Pradesh, too, are studying Gurgaon's no-car Tuesday model.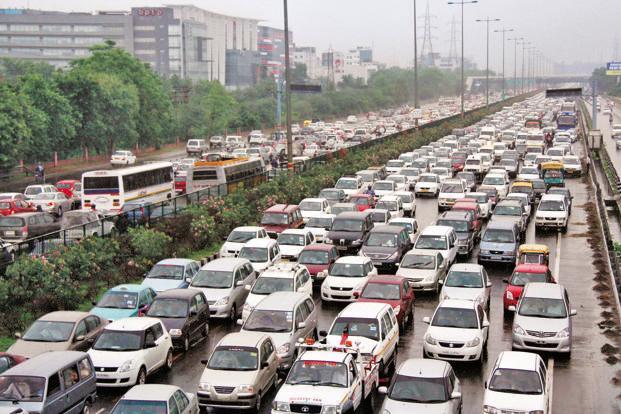 With a red turban, a lathi (heavy stick) and an amiable style, Virendra Ballhara hardly looks like a police officer.
But the assistant sub-inspector in a colourful attire, standing outside HUDA City Centre metro station along with a bunch of cyclists, takes his job very seriously.
"I convince people not to break traffic rules affectionately, because that is what a Tau (elderly male in Haryana) is required to do," says the Gurgaon 'Traffic Tau' who is still in his 40s. This time, though, his job is similar to those of some chief executive officers of Gurgaon-based companies and senior government officials.
Just as Ballhara, Sanjeev Kumar Gupta is eager to discourage use of cars. He deliberately entered his office late on Tuesday but a surprise awaited him - the parking slots were fairly empty.
Gupta is managing director of health & public services, government relations and corporate affairs at Accenture, but on Tuesday, he used an auto rickshaw to commute.
Many in Accenture decided to leave their cars behind and use public transport.
"Last Tuesday, there was 20-30 per cent reduction in overall traffic volume," says Bharti Arora, Gurgaon's joint commissioner of police (traffic). It is the second 'No-Car Tuesday'. The first one on September 22 was also the 'World no-car day'.
'Millennium city' Gurgaon is, quite ironically, an automobile hub, too.

There are villages such as Sikanderpur, Nathupur and Ghata Gaon that exist along with sunken roads and pot holes that dot the plush Golf Course Road.

"I can assure you the work on Golf Course road will be over by the next year," says Rohit Malik, director (estate) at DLF.
Road widening and metro construction works along the entire stretch have added to the traffic congestion.

City infrastructure is not able to cope up with its growth. Arora says there are 100,000 vehicles being registered in Gurgaon every year.
Besides, 1.2 million vehicles from the national capital region (NCR) and Jaipur cross the city every day.
Companies spend Rs 25,000 crore (Rs 250 billion) annually here. While Haryana's Budget is Rs 35,000 crore (Rs 350 billion), some Rs 12,000-15,000 crore (Rs 120-150 billion) is required for Gurgaon's infrastructure alone.

The information technology-information technology enabled services (IT-ITeS) sector in the city contributes 10 per cent to Haryana's GDP, says D Suresh, divisional commissioner, Gurgaon.
Similar is the story in Bengaluru, where the IT-ITeS sector has created a boom putting a pressure on the city infrastructure. "Students after college come back for jobs here," says Bengaluru-based Abdul Majeed, partner, PwC.
The Karnataka capital is trying to put in place the 'no-car day' concept in some colonies on week-ends.
Delhi and neighbouring Noida in Uttar Pradesh, too, are studying Gurgaon's no-car Tuesday model, raising concerns on whether this will impact car purchase decisions of prospective customers.
DLF, which in many ways can be credited with creating Gurgaon, has identified four major corridors for the campaign.
These corridors have the heaviest traffic flow in the city. The company also deputed 10 cranes for towing illegally-parked vehicles for facilitating better movement.
The traffic police, on its part, disallows street parking. Temporary cycle and walking tracks are demarcated.
At organisational level, DLF circulated information emails and route map to educate their employees about the no-car day.
"We provided shuttle services from six key areas to facilitate congestion free Gurgaon on Tuesday. In order to keep the momentum rolling, we will extend shuttle services for all working days," says Malik.
To dispel misconceptions about inconvenience on such Tuesdays, DLF Team designed and distributed quick FAQs (frequently asked questions), maps demarcating corridors, and shuttle routes to provide information to Cyber City tenants and residents of DLF.
"It will take time to de-congest the city," says Malik, who cycled to office on Tuesday.
"She forced me to buy one," he says, pointing to Sarika Panda Bhatt, manager, WRI India, a non-profit organisation, which is coordinating among all the agencies including IL&FS Transportation-operated Rapid Metro, Delhi Metro, police, companies and schools.
Internally, companies such as Cairn India, Accenture and Maruti promote car pools among employees.
With two car factories in Gurgaon, Maruti promotes less use of cars among its staff through Pitstop, an internal portal, and demarcated preferential parking called 'Green' slots for pooled cars.
Similar parking policy has been devised by Cairn India, which has 900 employees in Gurgaon. Self-driven cars by female employees are given preference, followed by employee cars which have opted for carpool.
Seeing a business opportunity in the city's congestion, there are players such as Meribus.com, which has a portal for offering bus service in NCR for those working in Gurgaon.
Another android-based mobile application service Shuttl.com has come up, too, to provide last-mile connectivity from metro stations.
Such services along with strengthening of infrastructure and symbolic initiatives like no-car day might push people towards public transport. In addition, there are cheap taxi-hailing apps such as Uber and Ola.
"A lot of people who can afford a vehicle are deciding against owning one. They just need access to transport," Mahindra group chairman Anand Mahindra had recently said, making many automobile players sit up and take note of the impact of cheap taxi service rendered by app-based taxis.
PwC's Majeed, however, sees the phenomenon in no way affecting car sales. According to him, taxi services such as Ola and Uber themselves will be among bulk buyers of cars. "Today's generation wants everything with ease so they want faster movement. Besides, road congestion and environmental concerns will change future mobility but people will buy cars for weekend outings and leisure."
For employees stressed over reaching office on time, there is a plus side, too. As Sumeet Kapur, chief executive officer of Global Groupware Solutions, puts it, such days bring empathy and shifts focus.
"I could understand the challenge my colleagues face in coming to office."