City police, metros, airports, even power utilities are using pop culture and social media to reach the young and encourage public ownership of public services. Amritha Pillay reports.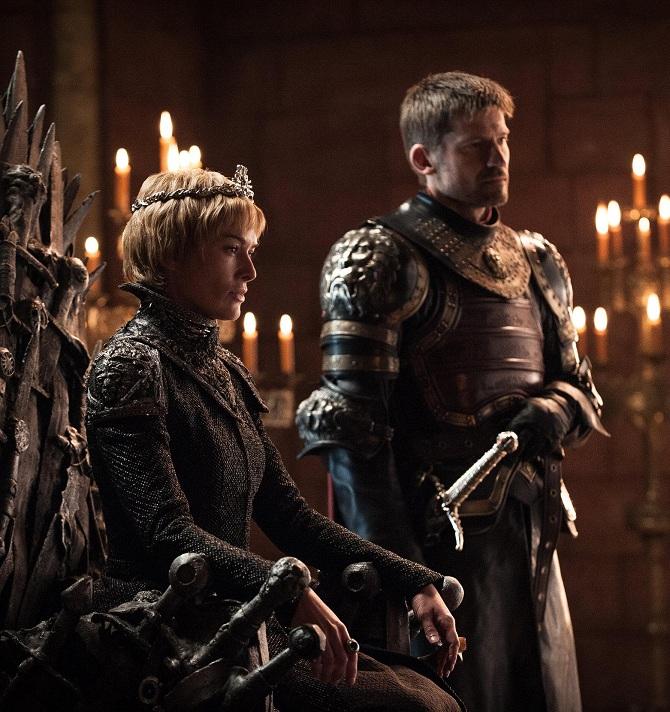 IMAGE: The Bengaluru city police won a huge set of followers on Twitter with their puns and references to popular TV shows like Game of Thrones. Photograph: HBO.
Why would a utility need to brand itself? After all, it is not really a matter of choice for most users when it comes to the local police, energy provider or transport service.
Turning that notion on its head, however, are a clutch of service providers: Mumbai and Bengaluru Police, the Mumbai and Delhi metros and the airports owned by GVK and GMR groups have taken to social media and launched innovative on-the-ground promotions to craft a unique identity for themselves. Their aim: appeal to young users and attract young talent on their rolls.
The Bengaluru city police, for instance, have won a huge set of followers on Twitter with their puns and references to popular American television shows.
A recent tweet to convey the message of using pedestrian crossings ('yesterday we were jaywalkers, today we are white walkers') that referenced a hugely popular television show, the Game of Thrones won them a lot of attention. (White walkers are non-human ice creatures on the show)
The Mumbai police have been very active too. A recent tweet cleverly used the promotion for the hit film Baahubali 2.
It posed two questions, one from the movie's teaser campaign that asked why Kattappa (a key character) killed the hero Baahubali and the second was, 'Why don't people follow traffic rules?' This was accompanied with a caption, 'And the second, can be answered only by you!'
It is not just the police. Airports, transport and energy utilities are all using social media, popular culture and a host of innovative ways to reach out to millennials -- their target audience, not just as consumers of the service but also as potential employees.
One of the objectives of such branding is to add colour to what would otherwise seem like a rather dull experience. It is an attempt to become a part of commuters' lifestyles as that opens up opportunities for future brand extensions and merchandising (in the case of airports, metros and energy companies) say experts.
'All these utilities and quasi-government bodies are learning from the private sector because they are appreciating the fact that the country is very clearly skewed to the youth. They believe being a peppy brand is important; otherwise they are a dull entity,' says Harish Bijoor, brand consultant.
Branding is also a way to encourage public ownership of the service.
'Since inception, we believed that the metro should be owned by the people who use it. The Majhi [my] Metro campaign is an attempt towards this. We are a transport entity, that is our base, but we want to give more,' said a spokesperson for the Mumbai Metro.
Since 2013, Mumbai Metro has run various competitions under the Majhi Metro label. While it is still a long way away, the Mumbai Metro is being modelled on the London Underground in terms of being a cultural force within the city, the spokesperson adds.
The branding initiatives also mark a change in the way utilities imagine themselves.
In India, the general attitude among service providers, especially government-owned transportation systems has been one of meeting a need, rather than crafting an identity that appeals to their users.
KV Sridhar, founder and chief creative officer at Hyper Collective says, 'Every brand has to adapt to the changing needs of the people. The postal and telegraph department also had to change to a payment bank model, if they do not adapt, their existence will be in jeopardy.'
Sometimes the branding is meant to create a friendlier face for the people the utilities serve. This is especially true for the city police and energy utilities whose Twitter handles are managed by people who are well versed with pop culture icons and references.
On May 4, officially celebrated as Star Wars day social media platforms like Twitter and Instagram were full of puns around the 'May the Force be with you' line from the movie. Reliance Energy used Star Wars character Darth Varder on its Twitter feed stating, 'May the power be with you.'
Mumbai's airport terminal T-2 uses its collection of art pieces on its premises to develop a host of promotions and activities. It has museum tours, lectures and has also held various photography contests for travellers. Recently, it has introduced a therapy corner where trained canines are used to calm anxious fliers.
Such initiatives are a way to win global appeal, not just reach out to the young.
Bijoor adds that the trend is likely to catch on as the utilities that are creating brand identities are setting a tone and theme whereby they envisage themselves as public property.
Tomorrow the concept could expand to local municipalities who look at street furniture and other such projects.
Pitching it to the young
Rapid Metro (serves Gurugram)
Active on social media. Conducts conversations about the daily routine of a commuter's life, building the metro as a brand that gives them more time for make-up, breakfast and more sleep.
Mumbai Metro
Live performances at stations, started with one station in 2015, but has spread to all stations along the Versova-Andheri-Ghatkopar line. Regular painting, photography and poetry contests; one train doubles up as a moving gallery of the art work generated through contests.
Mumbai Police
Active on social media. Uses pop culture references via its Twitter handle to spread the message of safe driving, lane discipline, cyber security and other issues. They used the character of Joey from the American show F.R.I.E.N.D.S about how he hated sharing his food to ask people not to share personal information online.
Bengaluru Police
Active on social media. Uses the Twitter handle to promote safe practices, a recent post comparing jaywalkers with (supernatural creatures) white walkers from the American show Game of Thrones was a big hit.