Anand Sharma, Union Commerce Minister, crossed over to Pakistan early Monday morning with a large delegation comprising of officials of his ministry, members of the trade chambers and journalists to launch India show in Lahore where goods from India would be displayed for the visitors who are keen to buy them.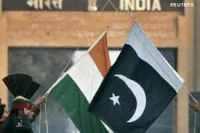 Sharma will be in Pakistan for three days, and will be holding talks with his counterpart from Pakistan and other members of the delegation of the host nation.

'India Show' is being organised by Indian Federation of Commerce and Industry. Nearly 150 Indian companies will exhibit their products at the show. There is a eighty-member business delegation that will visit Islamabad and Karachi to interact with local businessmen.

Until late last night the show was under cloud as Karachi based anti-India groups have gathered to hold a massive rally under the banner of a movement called Difa-e-Pakistan (Defence of Pakistan)under the chairmanship of the 'Father of Taliban', Maulana Sami-ul-Haq, the Difa-e-Pakistan has members from over 50 religious groups and known India baiters.

Politicians of the ruling party or the opposition in either Sindh or Punjab for fear of retribution from extremist elements do not have the guts to challenge the separatists elements in Pakistan.

Political establishment in Pakistan turns a blind eye on such developments, a senior business tycoon told rediff.com.
He is part of the delegation and is apprehensive about its outcome if something goes wrong.
One of the key areas is to reach an agreement on the negative list of goods during the three-day visit of Commerce Minister Anand Sharma.
"This is the understanding which was given to us when the Pakistan Commerce Secretary came in November. There is every reason for us to believe that there is an expressed wish and desire on the part of Pakistan as it is in our case to move to a regime which deepens and diversifies our trade and enhances economic engagement," the minister said in an informal chat with
rediff.com
on phone before crossing over to Pakistan. He is very optimistic about the outcome of the visit.
Around 6,000-7,000 items are traded via third country like Dubai. The list is likely to be pruned further and reduce the number of the negative list substantially to boost the trade between India and Pakistan.
"On the whole we remain optimistic that the negative list will be announced during the course of the minister's visit. What we have agreed to is a sequenced approach in the sense, in the first stage we will move to a negative list and second phase they would dismantle that negative list," a close aide of the minister said.
Trade between India and Pakistan liberalised some amount of trade across the land route and that has been appreciated by the trading houses as it has helped in cutting down the costs of selling goods via Dubai by either side.