It is important to note that slowdown in activity is really confined to a selected few regions within China, says Abheek Barua.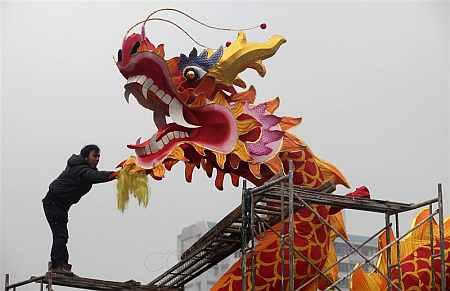 There doesn't seem to be any dearth of bad news on China's economic situation and the latest set of numbers that caused a flutter in the markets was a sharp decline (20.4 per cent) in import growth for September suggesting crumbling domestic demand coupled with lower than expected retail inflation that printed at 1.6 per cent.

Many analysts suggest that if high frequency data like electricity production and freight volumes are used to simulate GDP growth, it would be much lower than the seven per cent that the Chinese government reported for the first half of the year.

In short, the Chinese economy appears to be "hard landing" rather than gliding down smoothly.
My colleague Tanvi Garg who has been researching the China "story" for a while now has a number of caveats for those who would like to write the Chinese economy off.

For one thing, China's macroeconomic indicators have to be viewed against the backdrop of the re-balancing away from investments and manufacturing to services and consumption. She points out that manufacturing and investment activity have indeed slowed down sharply but consumption and the service sectors have held up rather well and are expanding.

In fact, the service sector in China is now about 50 per cent of the economy.

This has two implications. First, the rebalancing process that started a decade ago appears to have succeeded to a considerable degree.

Second, using indicators that derive from a model of the industry and investment heavy "Old China" would tend to miss the growing role of consumption and services or the "New China" that has emerged.

Using these somewhat outdated indicators could and actually systematically underestimate China's growth since it does not account for the massive structural change in the economy.
Her second caveat relates to the regional divergence in growth rates and the "concentrated" nature of the slowdown.

It is important to note that slowdown in activity is really confined to a selected few regions within China.

Six provinces (Tianjin, Liaoning, Jilin, Hebei, Shanxi, and Yunnan) that together account for only 15 per cent of the GDP explain over 80 per cent of the decline in real growth from 2012-13 to now.

These happen to be the more industrial provinces. Heavyweight regions like Beijing that has "rebalanced" towards a services-driven economy seem to be doing much better. The fact that big Western retailers like Nike, H&M and Apple aren't quite ringing the alarm bells perhaps reflects this regional disparity. Market opportunities for consumer products in regions like Beijing are large and expanding.
Besides, China's labour markets have been remarkably resilient.

No doubt, there has been a loss in factory jobs but the expanding service sector seems to be employing more and more workers. Household consumption might have moderated a little but remains healthy.

Retail sales grew by around 18 per cent in July and 11 per cent in August. Unlike the producer price index (the equivalent of the Indian wholesale price index) that is deep in negative zone, the consumer price index and its core component (stripped of food and fuel) is reasonably strong, some small deviations from forecasts like the September print notwithstanding.

Wage data that adequately reflects the earnings of service sector workers is difficult to get but all these indirect indicators point to a robust labour market.
Most importantly, China has been taking a number of prudent policy measures. For one thing, the government (both national and sub-national) has curbed its tendency to fight a slowdown in its headline numbers by ramping up credit growth.
In fact, it has successfully reduced the flow of funds to its housing sector and passed a law to ensure fiscal sustainability. This is not to deny that more needs to be done on this front and some things avoided.
The bid by the government to prop up the stock-markets that ultimately led to its implosion seemed so completely out of sync with the careful, solid reforms that were seen in other domains that it left analysts wondering what was responsible for this policy schizophrenia.
These are some of the kinks that need to be ironed out for the policy establishment to be credible. The government has to, for instance, stop mollycoddling state-owned enterprises.
But the big picture, as Ms Garg points out, is the following. There is a growing "New China" driven by consumption, services and to a degree high tech manufacturing.
The "Old China", the low-cost low-end manufacturing power house, a heavy investor in physical production capacity and infrastructure, is shrinking.

"Old China" is important for the world as it is the biggest guzzler of industrial commodities among other things. But even if China's growth rates improve a tad going forward, the structural and policy-driven decline in the "Old China" might not entirely reverse.

Thus one has to look for other drivers to push commodity prices back up. That said, commodities aren't exactly a homogeneous black box.

"New China" will support demand for things like car fuels (gasoline), inputs for consumer items while things like industrial fuels, ores and metals that old China demanded might not recover.
From India's perspective, it is important to recognise this duality in China's economy.
The emergence of "New China" actually makes China look a bit like India in terms of its macroeconomic profile - with a large service sector and an expanding internal market.
It is difficult to doubt the fact that it has a significantly better export infrastructure than ours.
Regions like the southern coast have embraced automation in a big way and that's a big plus when it comes to its attractiveness as a manufacturing base.
The combination of a deep domestic market and the ability to export efficiently is a clinching combination when it comes to attracting foreign direct investment.
The difference this time is that more FDI will be chasing domestic consumers rather than treating China merely as an export base.
This need not take away from the "Make in India" agenda.
However statements like "China's loss is our gain" that I hear frequently these days might be a little simplistic and inadequately informed about the "New China".
The writer is chief economist, HDFC Bank. The views are his own.