Brijmohan Lall Munjal had business rivals but no enemies, notes Bhupesh Bhandari.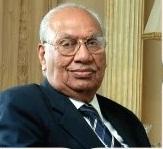 Several years ago, at the Delhi Auto Show, I saw Rajiv Bajaj get up from an interview, in which he was castigating some of his competitors, to greet Munjal the moment he saw him inside his stall.

I could see only respect in Mr Bajaj's body language as he showed Munjal around - it was as if he was with an elderly statesman, not a rival.
Munjal was the quintessential relationships man. He ran a very large company but he never let Hero MotoCorp (earlier Hero Honda) become a faceless and impersonal corporation.

Munjal was direct and informal with everybody he knew. While professionals took care of production, finance and marketing, Munjal, especially in his later years, focused on relationships - vendors, dealers and employees.
He was accommodating and large-hearted in his dealings. Even a separation of business in the family a few years ago failed to produce any rancor.

"It couldn't have been more amicable," one of the family members told me after the split. "Somebody would say you take so much. The other person would fold his hand and say 'I don't deserve so much'. That's how it was done."
This focus on relationships held true of most businessman of the pre-liberalisation age.

Almost all the doyens of that time - Har Prasad Nanda, Raunaq Singh, Bhai Mohan Singh, Lalit Mohan Thapar et al - were courteous to a fault and seemed to have oodles of time for all, journalists included.

They invested serious efforts in developing relationships. This was important for them because core competence at that time meant the ability to get licences and permits.
After 1991, when the Licence Raj was brought down, this skill lost its relevance. Businessmen became more, well, business-like: distant and aloof. People like Munjal were a refreshing change.
His forte was dealer management.
A lot of people may think it is all about showering goodies and junkets on them. But that is only partly true.

Munjal perhaps knew that when it came to indulging the dealers, the multinationals, with their superior financial muscle, could do it better than him.

So he took his dealers on all-expenses paid trips but supplemented that with his personal touch. This was something the multinationals could never do.
Thus, Munjal would meet every dealer before he was appointed. He was on first-name basis with all of them and would make it a point to attend all their private functions.

Dealers, especially those who had been with him for long, could walk into his office without an appointment - he would never turn them back.

Many would even go to Munjal's home, and he would take out time for them. Talk to any Hero MotoCorp dealer and you can be sure of hearing descriptors like guru, guide, mentor and father figure.
Some years back, Honda and the Munjals decided to part ways. Immediately after it had informed the stock markets of the breakup and before answering calls from anxious analysts and inquisitive journalists, the company did a live webcast with all its dealers.

The next day, the key hundred or so dealers were brought to Delhi, and Munjal, along with son Pawan Kant, apprised them of the situation.
Within 10 days, each one of the 100,000 or so mechanics and salesmen of the dealerships and the 4,000-odd touch points (service centres et cetera) were given dockets on the subject, and their questions were answered by the company's employees.

Result? Not a single dealer left the Munjals in spite of the doomsday projections.
And when the Munjals launched the new company name and brand identity in London a few months later, the presence of the army of dealers wasn't missed by observers.
Somebody who was there says there were at least 1,000 of them. Many dealers went with their families.
That Munjal worried about the dealers will be evident from a story I heard some time back. In June 2004, Qimat Rai Gupta, the founder of Havells who died last year, had gone to Shimla on vacation and was staying at The Wildflower Hall. There, in the lobby, Gupta saw Munjal and introduced himself.
Munjal said that he had heard of Havells and Gupta, especially of the fact that he took good care of his dealers, and offered to look at dealer engagement together - he wanted to know if the children of his dealers could do business with Havells in order to grow.
This shows what serious thought he gave to dealer engagement.
Munjal was rich yet simple. Those who worked with him closely insist that he kept an open office and never shouted or screamed at anyone.
When Hero MotoCorp became the largest two-wheeler producing company in the world, there were no wild celebrations.
When lesser companies moved to swanky offices, Munjal continued to operate out of cramped Basant Lok in south Delhi.
Many said that the Munjal family thought the office had been lucky and therefore did not want to move out. And shareholders never complain about such frugality.