The mix of direct college hires and experienced professionals in global information technology (IT) major Cognizant Technology has witnessed a change in the recent past, according to data available from the company.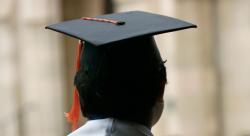 During the third quarter of 2012, around 35 per cent of the gross additions were direct college hires, while about 65 per cent were lateral hires of experienced professionals.

Direct college hires during the corresponding period of the previous year were 52 per cent of the gross additions, while the lateral hires of experienced professionals had stood at 48 per cent.

While the total number of gross additions was not divulged, Karen McLoughlin, chief financial officer of Cognizant, in an earnings call organised by the company after announcement of its third quarter results on Wednesday, said the net headcount of the company increased by over 5,100 people during the quarter. However, the gross addition and net addition are not comparable, say company officials.

The company ended the quarter with around 150,400 employees globally.

The change in the mix could be an indicator to the less absorption from campuses, says Shantanu Paul,
founder of Talent Sprint, which creates skilled and certified professionals for global industry.
"I am not aware of the figures in Cognizant, but generally, there are a lot of concerns in the IT (information technology) industry, which has affected the direct hires from the campus," he said.
With visa regulations in the US getting stringent, companies started hiring from the US itself for senior positions there. Earlier, companies had trained and shipped out middle-level employees from India for their operations in the US and hired more freshers from campuses in India.
Further, while earlier companies used to keep a lot of bench, the current scenario has made many pessimistic about growth, Paul said.
"Though keeping a large bench would help companies take up more projects, with the current economic slowdown, many companies have started tightening their benches, which resulted in lower absorption from campuses."
Speaking at the earnings call, McLoughlin said application development represented 51.2 per cent of revenue, while application management represented 48.8 per cent. Development grew 18.4 per cent year-on-year (y-o-y) and 4.6 per cent sequentially. Application management grew 17.9 per cent y-o-y and 6.2 per cent sequentially.