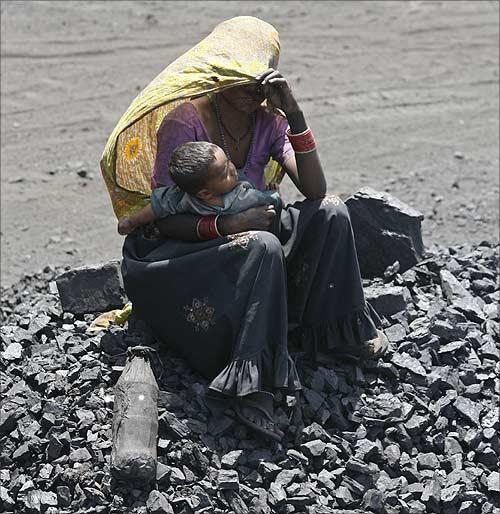 The five-day coal strike entered its second day on Wednesday, causing production loss of an estimated Rs 300 crore (Rs 3 billion), amid growing fears of a possible power crisis in the event of thermal plants running out of fuel supplies.
While the talks resumed today between the government and the trade unions to end the strike -- which is being billed as the biggest industrial action in nearly four decades – nearly five lakh workers, including that of PSU behemoth Coal India Ltd (CIL), remained off-work at coal mines across the country.
Top officials from states, including in Uttar Pradesh and Madhya Pradesh, expressed apprehensions that power supplies may be hit if the strike continues further, while executives at power companies also said they may run out of the emergency fuel supplies if coal production remains stalled.
Officials said the strike has impacted over 75 per cent of the daily coal output of 1.5 million tonnes, with 290 out of 438 CIL coal mines being hit. There were reports of clashes between workers and police in Jharkhand and West Bengal.
The strike call was given by all five major trade unions, including BJP-backed Bharatiya Mazdoor Sangh, against "divestment in Coal India and denationalisation of coal mining".
After talks between Coal Secretary Anil Swarup and union leaders failed to yield any results late last night, Coal and Power Minister Piyush Goyal and CIL Chairman Sutirtha Bhattacharya today met representatives of trade unions to find an amicable solution to end the strike.
There are concerns that the strike may severely hit fuel supply to over 100 thermal power plants across the country, as the emergency coal arrangements may not last long.
Unions alleged that CIL management was trying to bring in temporary workers to operate the 290 shut mines. After Tuesday's failed conciliatory talks, which continued till late in night, the workers' representatives said they wanted political leadership to come to the negotiating table.
"Production at various mines has been severely hit and monetary loss due to it could be over Rs 300 crore so far," a senior official said. CIL could produce only about 0.2 million tonnes today, while it was 0.22 million tonnes yesterday. Production was also hit at Singareni Collieries mines that produces around 0.1 million tonnes a day.
Industry bodies, including Assocham and PHD Chamber, said that the strike could impact industrial growth across the country, especially in power-deficient northern and southern regions, resulting in long unplanned outages.
A senior official at state-run power producer NTPC said that the strike may impact electricity generation at thermal power plants if it continues for next few days.
"At present there is no impact of Coal India strike at our plants. We received coal from the PSU yesterday and we also stock but if it continues (power) generation may get affected," he added.
As per latest data as on January 1 (which was before the strike began yesterday) of the Central Electricity Authority (CEA), 42 power stations have less than seven days of fuel, with nearly half of them have less than four days of stockpiles.
Uttar Pradesh Minister of State for Power Yasar Shah said the state may face electricity crisis if the coal strike extends longer. The Minister, however, said all arrangements have been made to tackle expected crisis and Chief Minister Akhilesh Yadav is monitoring the situation.
Meanwhile, Madhya Pradesh Power Generation Company Limited Managing Director Vijendra Nanavati said if the stir continues beyond January 10, it will start hitting power production in the state.
Fuel supplies by Coal India and its subsidiaries at some of thermal power plants is less than the annual contracted quantity (ACQ). These plants include state-run NTPC's Badarpur (Delhi), Rihand, Singruali, Tanda and Unchahar in Uttar Pradesh.
Panipat, Rajiv Gandhi and Indira Gandhi thermal power stations in Haryana, Rajpura in Punjab and five plants in Maharashtra received less coal from CIL and its subsidiaries on that day, the data said. These plants include Chandrapur, Khaparkheda, Parli, Paras and Amravati stations.
Southern region plants were also impacted. Dr N T Rama Rao thermal power project in Andhra Pradesh, Raichur and Bellary in Karnataka and North Chennai plant in Tamil Nadu also had less receipts from CIL and subsidiaries, the CEA data showed.
INTUC Secretary Rakeshwar Pandey, meanwhile, accused the government and Coal India management of compelling trade unions and coal workers to resort to strike after their repeated plea fell on deaf ears.
"No trade union or worker is willing to call strike as they are responsible and aware of the economical loss to the nation," Pandey, who is also the General Secretary of Jharkhand unit of INTUC, said.
Trade unions and workers were very much aware that they were not going to get any incentive by calling a strike, but the "arrogant approach" of the management only forced them to resort to such action, he said.