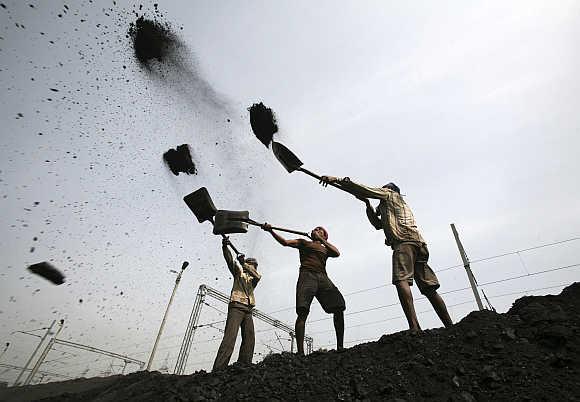 Once bitten, twice shy. After the Union comptroller and auditor-general saying there'd been a loss of Rs 10.67 lakh crore in allotment of coal blocks, the draft Request For Proposal (RFP) for new allocations has strong clauses for cancellation for breaches on this count.
In the 62-page draft RFP, circulated for objections and suggestions, the Union coal ministry has said the bid of performance security will get forfeited if the preferred bidder or mine allocatee is found to have, directly or indirectly, engaged in a corrupt, fraudulent, coercive, undesirable or restrictive practice in the bidding. And, won't be eligible to participate in any tender or RFP for another five years.
A corrupt practice has been defined as offering, giving, receiving or soliciting, directly or indirectly, anything of value to influence the action of any person connected with the bidding. This includes offer of a job, directly or indirectly, to any official of the designated authority prior to expiry of a year from the date such official resigns or retires.
Rohit Mahajan, senior director, Deloitte Forensic, said: "In July 2011, the central government had adopted an Integrity Pact and its applicability to ministries/departments and to public sector units. So, the coal ministry's inclusion of (this) clause in the RFP might not be so new.
This is possibly getting more attention in the current environment, wherein we have seen licence termination for 2G (telecom) players, termination of the helicopter contract with AgustaWestland and that past coal block allocation itself is under investigation by CBI under direct supervision of the Supreme Court."
The draft RFP says 'fraudulent practice' is any misrepresentation, omission or suppression of facts or disclosure of incomplete facts, to influence the bidding. Coercive practice is defined as impairing or harming or threatening to do so, directly or indirectly, to any person or property to influence bidding.
Undesirable practice is defined as establishment of contact with any person connected with or employed or engaged by the designated authority with the aim of canvassing, lobbying or in any manner attempting to influence the bidding. Besides establishing contact with a person having a conflict of interest.
And, restrictive practice would include formation of a cartel or arriving at any understanding or arrangement among bidders, with the aim of manipulating a full and fair competition in the bidding process.