Chinese brokers had been looking to use some of the cash they raised this year to expand their global reach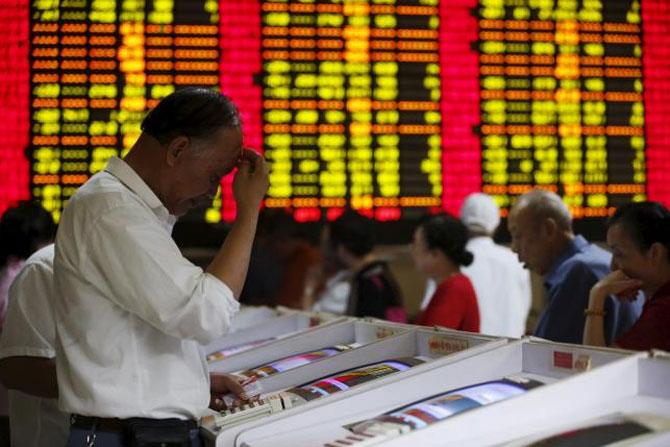 The business plans and overseas ambitions of Chinese brokerages are being shelved as Beijing pushes them to use their resources to arrest a dramatic plunge in domestic equity markets that is threatening China's economic stability.
Twenty-one of China's biggest brokerages were pressed into service last weekend, pledging to spend 15 percent of their net assets, roughly 120 billion yuan ($19 billion), to buy stocks as part of a broad government-led effort to calm what the securities regulator has called panic.
Securities companies, which have raised $29.4 billion through international and local share sales this year, are expected to pump more of their own cash into the market if share prices fall further, executives and analysts say.
"The top priority for Chinese brokers now is to protect the stock market," said an executive at a Chinese securities firm in Shanghai.
Chinese brokers had been looking to use some of the cash they raised this year to expand their global reach and offer a full range of products and services abroad, complementing China's internationalisation of its currency.
Haitong Securities, China's second-biggest brokerage, in December agreed to pay 379 million euros for Portuguese investment bank Banco Espirito Santo de Investimento SA, while its Hong Kong-listed firm this year closed a deal to buy Asian brokerage Japaninvest Group plc.
Now Haitong's attention is squarely on domestic matters, as its share price has tumbled about 35 percent since end-June. It has spent at least HK$313 million ($40 million) buying its own shares in Hong Kong in that period, according to company filings.
Haitong suspended its shares on Wednesday after a unit of state-backed investment firm Haixia Capital offered to sell a block of its shares at a discount of up to 20 percent.
In February, Citic Securities Co said it spent HK$780 million for KVB Kunlun Financial Group to build its international capabilities and expand its currency trading business.
"Those who haven't set up offices in overseas markets may have to slow down their plans, and those with offshore branches also won't have energy or time to expand at present," said the Shanghai-based securities executives.
Shares plunge
The market rout has been particularly brutal for shares in Chinese brokers this week.
"Investors are extremely unimpressed with their sudden conscription into national service, and you can see that in their share prices," said Matthew Smith, a strategist who covers the China financials sector for Macquarie.
Citic Securities stock is down more than 23 percent in Hong Kong since Monday. Shares in Guotai Junan International Holdings , the offshore arm of China's biggest securities firm, have fallen more than 28 percent.
Shares in Guolian Securities, which started trading on Monday, have dropped about 40 percent.
Bond spreads for securities houses have also widened.
All the brokers mentioned in the article declined to comment on the specifics of their market intervention plans.
At some mainland brokerages, those plans include only giving customers information that will "stabilise the market", said another Shanghai-based brokerage employee.
An employee at Shenwan Hongyuan Securities said that at morning meetings operations departments were being told by managers to help stabilise markets, which have lost more than $4 trillion since the start of June - or four times what the German stock market is worth.
"Especially our bigger investors, we're being told to comfort them," the worker said.
Shenwan Hongyuan could not immediately be reached for comment.
Brokerages are also helping themselves by helping the market, said the employee.
"It's not just a government request," the employee said. "In the bull market, the brokerages benefited a lot. This is something we must do."
($1 = 6.2090 Chinese yuan renminbi) ($1 = 7.7543 Hong Kong dollars)
Additional reporting by Engen Tham in Shanghai, and Matthew Miller in Beijing