The more capital brokerages have, the more they can lend to customers to buy stocks.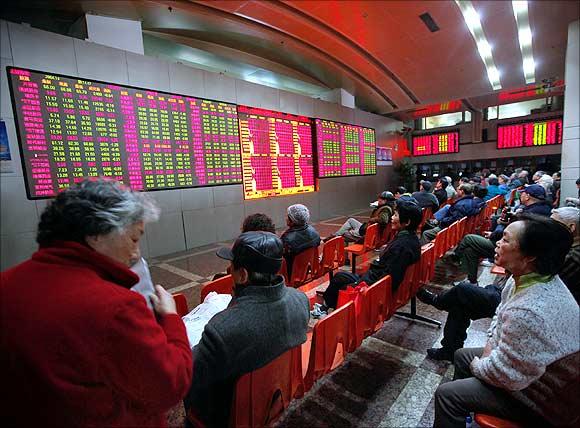 China's brokers are capitalising on a doped-up investor base, high on the returns from rising markets. CITIC Securities is the latest to cash in.
The sector has become a serial capital issuer, with a seductive pitch to investors.
The more capital brokerages have, the more they can lend to customers to buy stocks.
That pushes up trading volumes, and increases commissions.
Rinse and repeat.
Total margin financing in Shanghai and Shenzhen has doubled this year, to 2.2 trillion yuan ($350 billion).
Now China's biggest brokerage by assets and earnings plans to expand a previously announced share issue, selling a second tranche to China's social security fund.
The total haul could be $5 billion, if the still-unissued first slice is priced at the 20 percent discount shareholders already approved.
The overall terms are far from equitable.
The social security fund gets at a 43 percent discount to CITIC's closing price on June 8: twice what is normally tolerated in Hong Kong.
Giving a big discount to the national welfare fund arguably recycles some of the benefits to China's masses.
But other brokers have raised capital while respecting shareholders' interests.
Haitong International Securities raised $1.2 billion in May using a rights issue. China Galaxy completed a $3.1 billion placing the same month, but at a discount of just 5 per cent.
What can outside investors do? Institutions very rarely speak up in Hong Kong.
They could register a symbolic protest by voting against the pension fund's allocation.
Or they could simply get out.
But a 4 per cent-odd fall in CITIC's share price doesn't suggest serious dissent.
Its size and state backing, and the whiff of a government blessing that comes from a vague co-operation with the National Social Security Fund, may make investors more forgiving.
In any case, CITIC has market share to protect.
Earnings almost doubled in the first quarter, year on year, as it increased its margin-lending balance by more than 130 per cent.
But its share of margin lending fell from 7 per cent to 6 per cent during the first quarter of 2015, according to Daiwa.
CITIC and others have every incentive to load up on firepower before investors sober up.
John Foley is a Reuters Breakingviews columnist. The opinions expressed are his own
Image: People look at an electronic board at a brokerage house in Shanghai. Photograph: Aly Song/Reuters. The image is used for representational purpose only